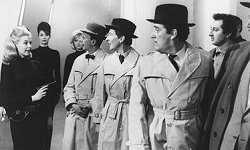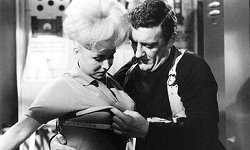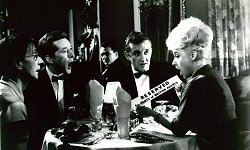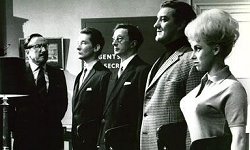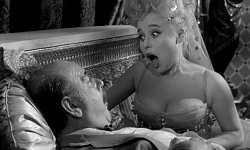 CAST LIST

Bernard Cribbins, Kenneth Williams, Charles Hawtrey, Barbara Windsor, Eric Pohlmann, Eric Barker, Dilys Laye, Jim Dale, Richard Wattis, Victor Maddern, Judith Furse, John Bluthal, Renee Houston, Tom Clegg, Jack Taylor, Gerton Klauber, Bill Cummings, Norman Mitchell,
Frank Forsyth, Derek Sydney, Anthony Baird, Jill Mai Meredith, Patrick Durkin, Angela Ellison, Hugh Futcher, Norah Gordon, Virginia Tyler, Judi Johnson, Gloria Best, Audrey Wilson, Vicky Smith, Jane Lumb, Marian Collins, Sally Douglas, Christine Rodgers, Maya Koumani

---
Carry On Cleo
Anglo-Amalgamated / Peter Rogers

Director: Gerald Thomas
Producer: Peter Rogers
Screenplay: Talbot Rothwell
Music: Eric Rogers

Made at Pinewood Studios

Shooting started 20th July 1964
Debuts: Warren Mitchell, Wanda Ventham,
Jon Pertwee, Sheila Hancock

The film industry produced some huge biblical and historical epics and Cleopatra was a natural target for the Carry On team and they even had the luxury (and cost savings) of using the actual Cleopatra sets at Pinewood Studios.

The Romans were making life a misery for the Ancient Britons, but the soldiers' hard-earned denarii could be used to buy a square wheel direct from the manufacturer, Hengist Pod (Kenneth Connor) and his wife Senna (Sheila Hancock).

They are taken to Rome as slaves and sold at Markus and Spencius, the cut-price slave traders run by Warren Mitchell but a confused case of mistaken identity leads to Pod being taken for a top Roman swordsman and as a result Sid James, as Mark Antony who is trying to keep his boss out of the reaches of assassination attempts, employs him as Caesar's personal bodyguard before his trip to Egypt to meet Queen Cleopatra.

Meanwhile Mark Antony, who has been sent on ahead to negotiate an alliance, is concentrating more on trying to chat up a very camp and scat-brained (but gorgeous) Cleopatra, played with amorous asp-irations by Amanda Barrie.

Despite the warnings of a Catweazel-like soothsayer (Jon Pertwee) and his guards, Caesar succumbs to the Ides of March.
No wonder Kenneth Williams is reduced to declaring 'Infamy, infamy . . .they've all got it in for me . . .'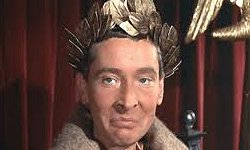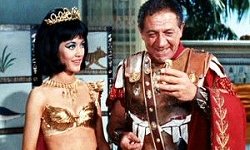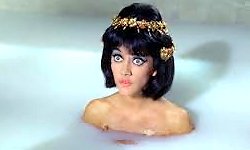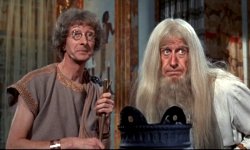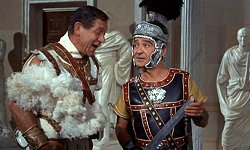 CAST LIST

Sidney James, Charles Hawtrey, Kenneth Williams, Joan Sims, Kenneth Connor, Jim Dale, Amanda Barrie, Sheila Hancock, Jon Pertwee, Victor Maddern, Julie Stevens, Francis de Wolff, Michael Ward, Brian Oulton, Tom Clegg, Tanya Binning, David Davenport, Peter Gilmore,
Ian Wilson, Brian Rawlinson, Gertan Klauber, Warren Mitchell, Michael Nightingale, Peter Jesson, Christine Rodgers, Gloria Best, Joanna Ford, Virginia Tyler, Judi Johnson, Gloria Johnson, Donna White, Jane Lumb, Vicki Smith, Thelma Taylor, Norman Mitchell,
Sally Douglas, Wanda Ventham, Peggy Ann Clifford, Mark Hardy. Historical narration was by E. V. H. Emmett


---
Carry On Cowboy
Anglo-Amalgamated / Peter Rogers

Director: Gerald Thomas
Producer: Peter Rogers
Screenplay: Talbot Rothwell
Music: Eric Rogers

Made at Pinewood Studios and on location at Black Park
Country Park; Fulmer, Bucks and Chobham Common, Surrey

Shooting started Autumn 1965
Debuts: Bernard Bresslaw, Angela Douglas,
Margaret Nolan, Peter Butterworth

Carry On headed out to the wild (well, slightly annoyed) west with its latest offering where Stodge City is being terrorised by the Rumpo Kid (Sid James with a remarkably decent American accent) so the local town council, led by Judge Burke (Kenneth Williams), call for help.

With a first name like his it's hardly surprising when, on arrival, sanitary engineer Marshall P. Knutt (Jim Dale) is accidentally mistaken for the lawman they expect to clean up the town, especially when they also think that he saved the stagecoach, on which he was travelling, from an Indian attack. In fact, the fancy shooting was surreptitiously carried out by Annie Oakley (Angela Douglas) who has come to Stodge to avenge the death of the last sherriff (Jon Pertwee).

As if having to deal with the Rumpo Kid isn't bad enough, Knutt also has more than his fair share of trouble with a group of incompetent Indians on the warpath, led gormlessly by Chief Big Heap (Charles Hawtrey) and his son Little Heap (Bernard Bresslaw) who are not averse to the odd glass or ten of fire-water, as liberally dispensed by local saloon owner Belle 'call me Ding Dong' (Joan Sims).

Despite not knowing his butt from his barrel, Marshall's reputation grows rapidly as he is ably extracted, unknowingly, from sticky situations by Annie, but ends up using his own speciality knowledge of sewer systems to defeat the Rumpo Kid in the final showdown.
This was the only known 'Carry On' film to exceed the time set for its shooting schedule - and it was only a day late.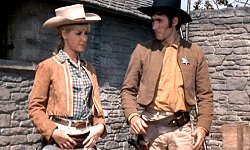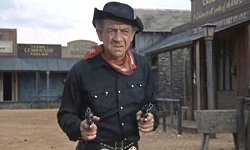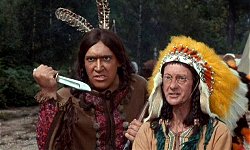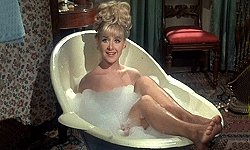 CAST LIST
Sidney James, Charles Hawtrey, Kenneth Williams, Joan Sims, Jim Dale, Percy Herbert, Angela Douglas, Bernard Bresslaw, Peter Butterworth, Jon Pertwee, Sydney Bromley, Edina Ronay, Lionel Murton, Peter Gilmore, Davy Kaye, Alan Gifford, Brian Rawlinson,
Michael Nightingale, Simon Cain, Sally Douglas, Cal McCord, Garry Colleano, Arthur Lovegrove, Margaret Nolan, Tom Clegg, Larry Cross, Brian Coburn, Hal Galili, Norman Stanley, Carmen Dene, Andrea Allen, Vicki Smith, Audrey Wilson, Donna White,
Lisa Thomas, Gloria Best, George Mossman. The saloon dancing girls were supplied by The Ballet Montparnesse


---
Carry On Screaming
Anglo-Amalgamated / Peter Rogers


Director: Gerald Thomas
Producer: Peter Rogers
Screenplay: Talbot Rothwell
Music: Eric Rogers

Made at Pinewood Studios and on location at Windsor, Berks;
Fulmer Grange, Bucks and Black Park Country Park

Shooting started Spring 1966
This was Harry H. Corbett's only 'Carry On' appearance

The Carry On team take on the Hammer House of Horror film franchise when the barking mad Doctor Watt (Kenneth Williams) and his sultry sister, vampiress Valeria (Fenella Fielding) terrorise the local countryside, using their home-made monster, Oddbod, to kidnap young ladies and bring them back to the mansion where they (the young ladies, that is) are turned into rock-hard shop mannequins. No, I don't know why - but I suspect that you probably do! Now, the other way round I could understand ....

The disappearances lead to the introduction of the not-quite razor sharp detecting abilities of Detective Sergeant Bung (Harry H. Corbett) and his slovenly sidekick Detective Constable Slobotham (Peter Butterworth) who arrive hot-foot to investigate after finding a huge hairy finger at the scene of the latest crime. Bung closely interrogates Valeria, which he finds more than hair-raising, before discovering the gruesome goings on and Jekyll and Hyde transformations in the Doctor's lavatory, sorry laboratory.

Bernard Bresslaw plays the menacing Lurch-like butler, Sockett, and Jim Dale gets more and more involved as the fiance of one of the victims, Doris Mann (Angela Douglas), in his attempts to help Scotland Yard's finest in solving the mystery.
The featured title song 'Carry On Screaming' was by Myles Rudge and Ted Dicks and was credited as being sung by Anon. It was actually Ray Pilgrim but for years was thought to have been Jim Dale.