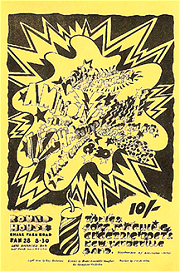 Although seeming to be physically unhurt at the time, he apparently received an undiagnosed head injury. Instead of being taken to hospital for examination, friends gave him some LSD to 'calm him down' which badly affected him. Following the incident he spent three years as a 'down and out' and suffered from manic depression for the rest of his life. 'Carnival of Light' was an experimental piece by The Beatles, recorded on 5th January 1967 during a five hour session that included the vocal overdubbing session for the 'Penny Lane' song.
It was created especially for events at the Roundhouse theatre titled 'The Million Volt Light and Sound Rave' (also known as 'The Carnival of Light Rave') which were held on 28th January and 4th February 1967.

In December of 1966 BEV had recently carried out a psychedelic decoration of Paul McCartney's piano. On delivering it to Paul's Cavendish Avenue address, David enquired whether McCartney would like to contribute a piece of music for the planned 'Million Volt' show and was pleasantly surprised when he agreed. According to descriptions of the session given in Record Collector magazine the four-track recording begins with track one as basic drums and organ rhythm backing and track two as sound effects and distorted guitar. Track three consisted of John and Paul screaming like "demented old women", according to one account, with John crying "Barcelona!" while Paul screams, "Are you alright?," with added whistling and water gargling. Track four had more sound effects, tambourine shaking and tape echo. The track ended with Paul shouting to the sound engineer, "Can we hear it back now?". The 13 minute 48 second track was mixed down to mono and a copy was given to Binder, Edwards and Vaughan. It was used for this one event and hasn't been heard in public since.

In November 2008, Paul McCartney confirmed he still owned the master tapes, adding that he suspected "the time has come for it to get its moment. I like it because it's The Beatles free, going off piste". Beatles producer George Martin, however, felt it was a waste of time. When asked twenty years later if he remembered it he replied "No, and it sounds like I don't want to either!" The event was an art festival organised by Binder, Edwards and Vaughan as a showcase for their music and electronic light shows and featured performances by Unit Delta Plus, whose members included electronic music pioneers Delia Derbyshire and Brian Hodgson from the BBC Radiophonic Workshop and electronic artist Peter Zinovieff.

Dudley Edwards attended art schools in Halifax and Bradford before becoming a co-founder of the BEV 'Pop' collective. During the Sixties his psychedelic murals and designs were appearing everywhere, from the fashion boutiques of Chelsea and Soho to Paul McCartney's 'magic' piano and his many collaborations included the likes of The Beatles, The Who's Pete Townshend and The Faces.