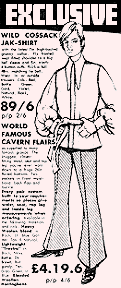 The winter of 1963 saw me working at Watford Market. To my shame, my heavily pregnant wife worked in the shop with Colin. We needed the money. During the week I worked hard on what I enjoyed most - my mail order. I feel I should explain that, in those days, to make a 30% profit was good. Today, shops take over 200%. We had to work much harder. I sold any item that I could as cheaply as possible, anything from playing cards to paint brushes. Our clothing mail order needed a 'W1' address and, with this in mind, we visited Camaby Street to look for a small office but ended up falling in love with a little dress shop in Ganton Street. The landlords wanted £3,000 (£40,000 today) but we could only scrape together £1,000.

I went to the landlords and, by showing them my mail order catalogue, I won them over but we had just one year to repay the balance. So there we were, in an empty dress shop that needed shop-fitting. It was already Tuesday, and somehow we had to open by the Saturday.
The shop's name, we agreed, would continue to be 'Michael Martin'. One suggestion from Colin was to crumble silver paper and staple it to the walls and ceiling, literally everywhere. He had created a Father Christmas grotto the previous year and it had looked great. It was a crazy suggestion but it sounded different. We had to do something, so we ran with the idea and I went out and bought 100 rolls of kitchen foil, two staple guns and 50,000 staples.

We worked solidly for some 36 hours until our hands were red sore and badly blistered. To finish it all off, we hung a huge ceiling fitting - a glass ball, rotating slowly, with bright spot lights in red, yellow, and green, flashing alternate colours to the beat of the music. We stood back, surveyed the results of our labours, and decided that there could be only one name for the place: 'The Carnaby Cavern'.

The shop became very famous in the 60's, lasting through until the late 70's. We made stage-wear for all the following groups and celebrities: Bob Hoskins, Benny Hill, Shirley Bassey, Alexei Sayle, Mud, The Bay City Rollers, Long John Baldry, Edwin Starr, The Four Tops, Desmond Dekker, Hot Chocolate, The Equals, Love Affair, AIvin Stardust, Jeremy Irons, The Harlem Globetrotters, Wayne Sleep, The Sweet, Alan Price, Barry Gibb, Marc Bolan, The Kinks, The Foundations, Status Quo, Miss World .......... Do you remember the TV show 'Hi-de-Hi ? We had to make the jackets 'badly' … so I got the tailors drunk! The time we fell foul of the New York mafia … The union jack jackets for The Jam ... It all happened at the 'Cavern'…….