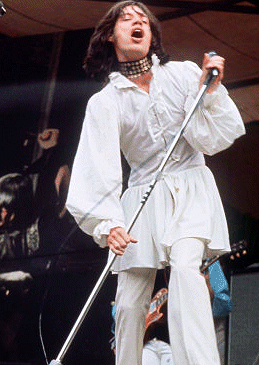 Mick is dancing, strutting, pouting, and singing with the ease and grace of a master showman. He has to be the best front man in the world. I always enjoy seeing Daltrey with The Who, but he has one main move, whirling the mike high above his head. Jagger has a thousand moves, gestures, expressions, all flowing from the self-belief that underlines every performance. He is the ringmaster who leads the show.

I'd love to tell you we are being treated to a classic concert, but sadly that's not true. The sound is ragged. Watts and Wyman are rock solid, but the two guitars often sound out of tune. Mick Taylor plays some nice bluesy slide, but as he said when we met, it will take time for him to feel part of the Stones. It's too early for any real rapport between him and Keith, they're still finding their way. The songs are great, of course. Hits like Jumpin' Jack Flash and Satisfaction, plus Midnight Rambler and Love in Vain from their next album, and the new single Honky Tonk Women, all have their moments but there's something missing. Maybe the band are rusty after that long layoff, maybe recent events have caught up with them.

Whatever the reason, from where I'm sitting it all feels a bit flat. It's Jagger who keeps the show alive. He knows the band are playing way short of their best but he shows no weakness, holding it all together with his unique brand of ego and wizardry. The show finally kicks into gear with the last two songs, both from Beggar's Banquet. Street Fighting Man is powerhouse rock. Question: how does Charlie Watts do it? He's not like Keith Moon, pounding the kit like a madman. Charlie looks cool and relaxed, almost like a sleepy commuter on a morning train, but he delivers killer rhythms that could stop traffic.

Wyman's pounding bass drives the song forward and, at last, Keith Richards comes alive. Taylor's guitar senses the lift in mood and weaves its own tasty patterns. Jagger's prancing, having fun. His vocals have been strong all afternoon and now the band have finally shown up he's on the high wire, living the moment. It's time for the last song, Sympathy For The Devil. African drummers join the Stones onstage, at one with the menacing beat.

The lyrics are dark, but the mood is light, as Mick dances with a tribal warrior complete with spear. It's all a bit cheesy, but he carries it off with a smile, before kneeling down at the front of the stage and teasing the young girls who reach up to touch him. Excitement grows, shades of early tours, teenage fans with tear-stained faces, longing for Jagger, the shaman who makes their hearts race. The girls claw their way up onto the stage, things are getting a little out of hand, Mick knows the signs, it's time to go. One last message for the crowd, really had a good time, really had a good time, he repeats the words over and over like a mantra, as the band build to a crescendo, African drums pounding, stoned crowd rising, voodoo song shining for the one who has fallen, no need to explain, no sugar and spice, this is how it should be, rock 'n roll gypsies at one with their music... the music of the Rolling Stones.

Jennie and I are up on our feet as the final chords crash and tumble. This wasn't just a rock show, it was a worldwide event. Paul McCartney is leaving at the same time as us, no security men, no big fuss. I'd love to talk to him but I chicken out. He looks happy, like he's really had a good time. Jennie and I feel the same way. The Stones came through... thanks to Jagger.