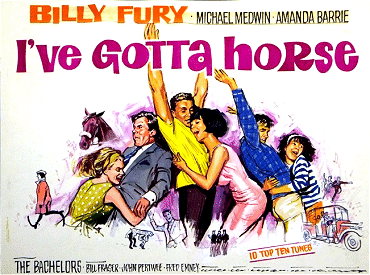 Billy Fury's second movie was a Windmill Films presentation which was released in 1965. It was 92 minutes in length, directed by Kenneth Hulme (Shirley Bassey's former husband) while the musical director was Mike Leander. The screenplay was by Ronald Chesney and Ronald Wolfe from a story by Kenneth Hulme and Larry Parnes. It starred Billy, who actually owned a horse called Anselmo that came fifth in the Derby.

The film was basically an idea by Larry Parnes, Billy's manager, who wanted the film to project Billy's love of animals. He decided to begin the film in the holiday resort of Great Yarmouth following Billy's season there and opens when Billy goes to a country auction intending to buy a sheepdog to add to his menagerie of animals. He is originally featured with three of his own dogs the Great Dane called Rusty, a Chihuahua called Speedy and a Doberman Pinscher called Sheba.

Instead of buying another dog, Billy finds himself, for a bid of 40 guineas, the proud owner of a racehorse called Armitage, and arrives back at the theatre where he is rehearsing for his summer show, singing 'I've Gotta Horse.' This is quite literal because, behind his Land Rover crammed with all his dogs, he is towing a horse box containing Armitage.

In the theatre are Billy's manager Hymie, his secretary Jo and the show's producer, Bartholomew and they watch Billy sing a love song, although Bartholomew is angry that Billy has turned up late, while Jo believes the love song is sung specially for her. Billy absconds from the theatre again to arrange with a man and his grandson, who run the donkeys on the beach, to stable and feed Armitage at their farm. Hymie tells Billy he is worried that his interest in his dogs, and now his horse, could have an effect on his contract with the promoter of the show, but Billy takes no notice.

That same day Billy brings Armitage backstage to shelter from the rain, much to the annoyance of Jock, the stage manager. When Billy ties the reins to the lighting system, the horse gets entangled in it and the promoter is enraged still further. When he sees that Armitage has now been groomed and well cared for, Hymie begins to appreciate the horse and all agree that he is good enough to enter the races at Yarmouth.