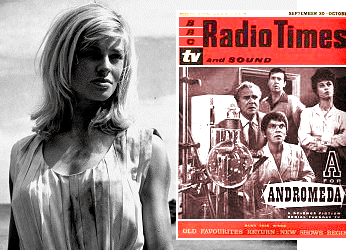 Following the success of the adult science fiction TV series based on Professor Bernard Quatermass, the BBC decided to commission another adult sci-fi project and approached Fred Hoyle, a professor of astronomy and experimental philosophy at Cambridge University, who had penned science-fiction novels such as 'The Black Cloud' and 'Ossian's Ride'.
He agreed and created an original story, which he dictated onto a tape recorder, and John Elliott then dramatised it for television. There were seven 45-minute monochrome episodes originally screened from December 3rd 1961 to November 14th 1961: The Message; The Machine; The Miracle; The Monster; The Murderer; Face of the Tiger; The Last Mystery. The final episode was 50 minutes in length.

The series begins in the year 1970, when a new giant radio telescope is opened. The staff, making routine checks, discover a series of signals, received from the Andromeda constellation, which have taken two hundred years to reach Earth. A special team is then set up at a rocket-testing base in Thorness, a stretch of coast in the Western Isles, and 'Project Andromeda' is underway. The Ministry of Defence has attempted to keep the entire project secret but one of the team, Dennis Bridger, informs an organisation called Intel which seeks to steal it for its own ends, but he falls to his death from a cliff when pursued by a government agent who has been trailing him.

John Fleming, a young scientist who initially seems to be the only one to understand what the message from Andromeda is, reveals: "It's a do-it-yourself kit - and it isn't human". The alien message comprises a system of dots and dashes which Fleming eventually solves. They are instructions to build a computer far in advance of anything known on Earth.
When the team is joined by biologist Madeline Dawnay, she realises that the computer intends to create a biological being as it begins to outline instructions to construct living cells. It then develops a human embryo which is deformed and which they name 'Cyclops.'
A young lab assistant Christine is electrocuted when she touches two terminals and the computer then destroys 'Cyclops' and creates another creature which is a duplicate of Christine.