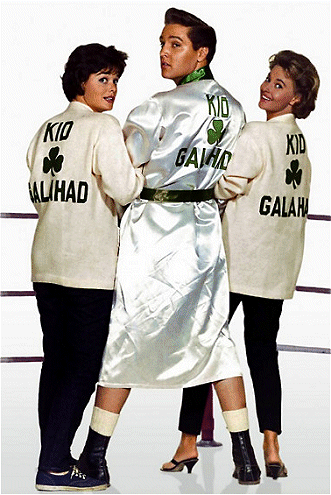 Elvis' 10th film was a United Artists production, 95 minutes in length, released on 29th August 1962 on a double bill with 'The Nun And The Sergeant' and was directed Phil Karlson. Elvis played Walter Gulick; Lola Albright was Dolly Fletcher, the usual older woman part featured in some Elvis movies; Gig Young was Willy Grogan; Joan Blackman, who had co-starred with Elvis in 'Blue Hawaii' was Rose Grogan and Charles Bronson was Lew Nyack.
Apparently Elvis and Bronson didn't get on. It was said that Elvis, who had recently earned his black belt in karate, was demonstrating his skills by breaking boards with his hands. When Bronson attempted it and failed, it resulted in creating a barrier between them.

The movie was a remake, originally seeing life as a story by Francis Wallace in the Saturday Evening Post in the 1930s and was first filmed in 1937 with Edward G. Robinson, Humphrey Bogart and Bette Davis. When it was show on American television in the Sixties the name was changed to 'The Battling Bellhop' to avoid confusion with the Elvis film. The first remake was in 1941 under the title 'The Wagons Roll At Night' with Humphrey Bogart and Sylvia Sidney.

After he is demobbed, ex-G.I. Walter Gulick turns up in his birthplace, Cream Valley in the Catskills, seeking a job. He becomes a mechanic and also acts as a sparring partner for a local boxer, who he knocks out. "Do I still get my five dollars?" he asks. He is spotted by Willy Grogan who recognises his potential and becomes his manager. Walter falls for Grogan's sister, Rose, a romance which Grogan attempts to discourage. Grogan owns the resort Grogan's Gaelic Gardens, but is heavily into debt to local gangsters due to his gambling. When some local hoods try to assault Rose, Walter tackles them and, as a result, is given the nickname 'Kid Galahad.'

The gangster who Grogan is in debt to wants him to repay him by arranging for 'Kid Galahad' to lose his upcoming fight with Sugarboy Romero. There is a lot of gambling money invested in the fight, which Grogan hopes will solve his financial problems. A couple of hoods try to talk Lew, Galahad's trainer, into not patching up any of Galahad's cuts in the forthcoming fight. When he refuses they break his hands. Galahad arrives and beats them up. When the time comes for the climactic fight, we all know who will win!

Elvis was coached for the boxing sequences by Mushy Callahan, a former World Welterweight Champion. The final fight featured Orlando do la Fuente (who was, at that time, an undefeated welterweight champion) as Galahad's opponent, 'Sugarboy Romero'. At the time of filming, Elvis was weighing in at around 200lb which may have led New York Times critic Bosley Crowther to write, 'The expanses of flesh that he exposes when he gets into boxing togs are a fair indication that most of his muscles come from punching a guitar'

There were six songs in the film: 'King of the Whole Wide World', by Ruth Bachelor and Bob Roberts, is sung over the opening credits. 'This Is Living', by Fred Wise and Ben Weisman, is sung on the front steps of Grogan's training lodge. 'Riding the Rainbow', by Fred Wise and Ben Weisman, is sung in a Model T Ford while driving to Albany. 'Home Is Where The Heart Is', by Sherman Edwards and Hal David, is sung by Joan Blackman while she is sitting down. 'I Got Lucky', by Dee Fuller, Fred Wise and Ben Weisman, is sung at a Fourth of July celebration. 'A Whistling Song', penned by Sherman Edwards and Hal David, is sung while Elvis is strolling with Joan Blackman to the Church of St Stanislaus. 'Love Is For Lovers', written by Ruth Bachelor and Sharon Silbert, was cut from the film.

The movie soundtrack was recorded at Radio Recorders in Hollywood in October 1961 with Elvis on vocals; Scotty Moore, Tiny Timbrell and Neil Matthews Jr. on guitars; Bob Moore on bass; Dudley Brooks on piano; Boots Randolph on saxophone; D.J.Fontana and Buddy Harman on drums with The Jordanaires providing the backing vocals. The EP was issued in September 1962 on RCA EPA-4371, reaching No. 30 in the American charts and becoming Elvis' biggest-selling EP in Britain.