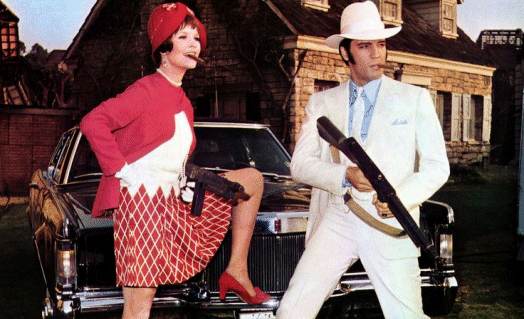 After such a chequered history one could either expect something very good or something of a hodge-podge. It turned out to be the latter, with so many different scriptwriters over the years the plot was chopped and changed becoming at various times a musical, a murder mystery and a conflict between showpeople and townspeople, changing direction throughout. As it was one which wasn't specifically written for Elvis, unlike his other films, he is not constantly on screen.

To clear up the writing credits: it was scripted by Arnold and Lois Peyser based on a story by Mauri Grashin, which itself was based on the book 'The Chautauqua' by Day Keene and Dwight Babcock. The nine year-old screenplay concerned a travelling show in1927 called a Chautauqua. It was directed by Peter Tewksbury and Elvis portrayed Walter Hale, the manager of the troupe. Bobby Gentry was considered for the part of Charlene, the love interest in the story, but it went to Marilyn Mason in her screen debut. She plays the shop steward of the show who is also his piano accompanist and is always at odds with the manager, although she's half in love with him (a bit similar to the relationship between Doris Day and John Raitt in 'The Pajama Game.') The cast also included Sheree North as Nita Bix, Vincent Price and John Carradine.

The film begins in black and white and shifts to colour. The travelling show arrives in the small town of Radford Centre in Iowa and coincides with the murder of a local pharmacist in which a card sharp is accused. Elvis has to solve the murder mystery in order to save the show, at the same time trying to prevent the Mayor from barring the Chautauqua because they have chosen Nita Bix's daughter to lead the parade rather than the Mayor's daughter, plus there are financial problems to be overcome, in addition to dealing with Charlene over a labour dispute and a college girl who wants to join the show. Sheree North plays Nita Bix who turns out to be the killer, although she killed in self defence.

Rather than a string of rather mediocre songs, as in many of his previous musicals, Elvis has a chance to sing some gospel numbers in the film, a style of music which he was enthusiastic about. The songs included 'Swing Low Sweet Chariot', 'The Whiffenpoof Song', 'Almost', 'Violet (Flower of NYU)', 'Clean Up Your Own Backyard' and 'Sign Of The Zodiac', the latter a duet with Marilyn Mason in which she sings most of the song. The music was recorded at United Recorders in Los Angeles in October 1968 and the musicians were: Elvis Presley, vocals; Gerald McGee, Morton Marker, Joseph Gibbons, guitars; Max Bennett, bass; Frank Carlson, John Guerin, drums; Don Randi, piano, Marilyn Mason and the Mello Men, vocals. The film opened nationally in America on 3rd September 1969 on a double bill with 'The Green Slime'.