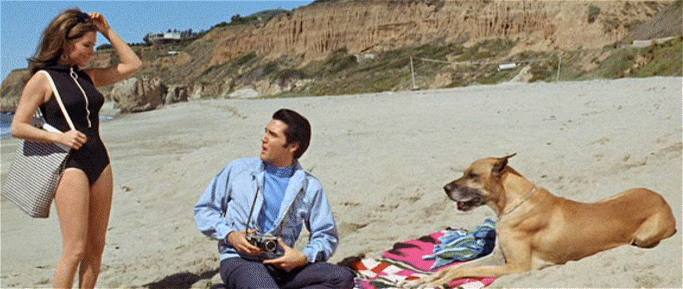 The film, Elvis' 28th, opened in the U.S. on October 23rd 1968, although it was never released in British cinemas. The script, by London-born Michael Hoey, was based on Dan Greenberg's first novel 'Kiss My Firm But Pliant Lips.' Norman Taurog was directing his ninth and last Elvis movie and it was to be his last film. Elvis plays Greg Nolan who is driving his jeep on Malibu Beach when he meets a girl called Bernice (Michelle Carey) who, after Greg spurns her advances when she says "Will you make love to me?", sets her ferocious Great Dane named Albert on him, forcing him into the surf. There were rumours that the dog was Elvis's own Great Dane, Brutus, but this is untrue.

She then takes Greg back to her beachfront home where she drugs him with pills and he is incapacitated for several days. When he recovers he discovers that, due to his absence from work, he's been sacked from his job as a newspaper photographer with the Hollywood Citizen News. He also finds that she has moved all his possessions into her beach house. Annoyed with her, Greg has to find himself a new apartment, which is so expensive that, to make ends meet, he has to take on two jobs: one with a posh advertising agency run by Louis Penlow (Rudy Vallee) and another with Classic Cat Magazine, a 'girlie' mag similar to Playboy. He has to juggle each of the jobs to prevent his bosses realising that he's working for someone else.

Taurog was trying to make a 'stewball comedy' and it is possibly Elvis' first 'adult' film as he gets to sleep with the female character, who is an odd woman (Greg says she is "Nuts. Absolutely nuts!") who keeps assuming different names (Bernice, Betty, Suzy, Alice), and personalities, although he eventually falls in love with her. When they are initially in bed together, Greg places a board between them - harking back to the Clark Gable/Claudette Colbert scene in Frank Capra's screwball comedy 'It Happened One Night.' There are lots of girls in Elvis' movies and this one isn't any different. The credits list them as 1st secretary, 2nd secretary, Perfume Model, 1st model, 2nd model, 3rd model, 4th model, model, female companion, 1st woman, 2nd woman, 3rd woman, blonde, lobby model, dancer, masseuse, girl at party, etc.