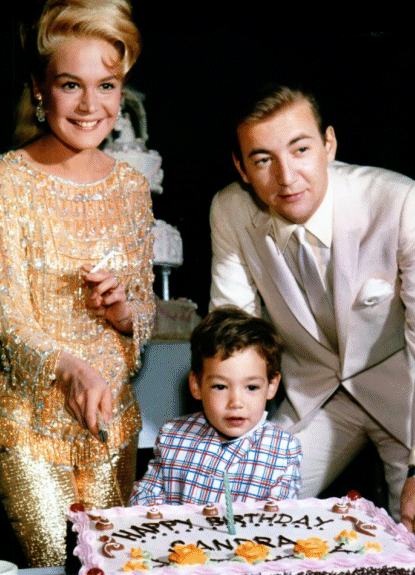 The romance between Bobby Darin and Sandra Dee was a strange match, the tough ghetto-born rebel Darin and the blonde sweetheart of teen movies, but it proved to be one of the most publicised marriages of the 1960s. Darin was born Walden Robert Cassotto on 14th May 1936 in a poor area of Manhattan, New York. His grandparents Sam Cassotto and Polly Walden married in 1912. They were both morphine addicts and Sam died when he was forced into withdrawal during a prison sentence for theft in 1934. Their 17-year-old daughter Nina became pregnant and it was decided to pass the baby off as Polly's. Reared in poverty, the young lad contracted rheumatic fever and after four bouts of it his heart was impaired, forcing him to take medication for the rest of his life.
He always believed he'd never reach the age of 30.

When he began a career as a songwriter he was passing a Chinese restaurant, the 'Mandarin' and the first three letters of the neon sign were out, so he decided to call himself Darin. He began to enjoy success as a singer with songs such as 'Splish Splash' and 'Dream Lover'. In 1959 while he was recording an album and cutting a number called 'Through A Long And Sleepless Night', he heard that his 'mother' Polly had died - so he placed an acetate of the number in her coffin. Throughout his career Darin would change his styles of music - from rock 'n' roll to ballads, blues to folk, country to MOR (middle-of-the-road) and at the onset of the 1960s had success with a series of ballads, including 'Mack The Knife', 'Lazy River' and 'Beyond The Sea'.

In December 1960 he married one of America's teenage sweethearts - Sandra Dee. Sandra, real name Alexandra Cymboliak Zuck, was born in Bayonne, New Jersey, on April 23rd 1942 and made her movie debut in 1957 in 'Until They Sail'. She gained star status among teenagers for her eponymous roles in the 'Gidget' and 'Tammy' movies. Millions of American girls wanted to imitate her - a trend which was highlighted in the film 'Grease' when Stockard Channing and her friends sing 'Look At Me, I'm Sandra Dee'. The endearing former child model and the extrovert singer had fallen in love when they were teamed up for the film 'Come September'. Darin had previously enjoyed affairs with Keely Smith and Jo Ann Campbell and a much-publicised romance with Connie Francis. Francis and Darin were both managed by George Scheck and Bobby wrote the song 'My First Real Love' for Connie to record. When they fell in love, Connie's father George Franconero was so protective of his daughter that he gave Scheck an ultimatum - he must manage either Connie or Darin, but not both. Scheck chose Francis and the couple were forced to end their romance.

After several miscarriages, Sandra and Bobby had a son who they named Dodd and Sandra gave up her mainstream career to look after their child, although she continued to appear in the occasional film. Darin proved to be as good an actor as he was a singer and songwriter and appeared in dramatic roles in films such as 'Pressure Point' and 'Too Late Blues'. He received an Oscar nomination in 1963 as Best Supporting Actor for his role in 'Captain Newman MD'. In 1963 he collapsed from exhaustion, but recovered to continue recording and appearing in films, having success with numbers ranging from 'Multiplication' to 'If I Were A Carpenter'. During 1966 Bobby had aspirations of running for political office. Then Nina had to reveal the truth to him about his parentage: that the one he'd always known as his 'sister' was really his mother and his 'mother' had actually been his grandmother.

In 1965 Bobby and Sandra teamed up to film 'That Funny Feeling', but after seven years of marriage they divorced in 1967. Bobby began singing in nightclubs under the name Bob Darin, sold most of his possessions and moved into a trailer. He was to sign with Tamla Motown in 1971, but most of his material for the label remained unreleased. That year he underwent surgery. His childhood rheumatic fever had seriously weakened his heart and he had two artificial valves inserted. In 1973 he married Andrea Yeager, a secretary, but filed for divorce in October. During that year his syndicated television series 'The Bobby Darin Show' was transmitted weekly until April and his last film 'Happy Mother's Day' was released in May.

He was taken to the Cedars of Lebanon Hospital in Hollywood to repair a heart valve, but died during surgery on 20th December. There was no burial service and he left his body to medical research. Bobby and Sandra had kept in touch from the time of their divorce until his death, regularly contacting each other by phone. She attempted to resume a film career, but the momentum had been lost, and during the 1970s and 80s she appeared mainly in television series and movies such as 'The Daughters Of Joshua Cabe', 'Houston, We've Got A Problem', 'Night Gallery', 'The Sixth Sense', 'Police Woman' and 'Fantasy Island'. Theirs was a Hollywood romance which contained more than enough drama for a movie in its own right - and it resulted in the 2004 film 'Beyond the Sea' starring Kevin Spacey as Bobby and Kate Bosworth as Sandra.

Sandra Dee had struggled with anorexia throughout her film career and, in later life, drug abuse, alcoholism and depression. She died on February 20th 2005, aged 62, of a kidney disease.