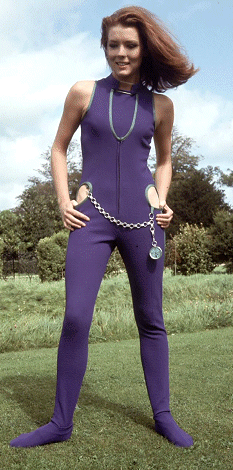 Diana was born Enid Diana Elizabeth Rigg in Doncaster, Yorkshire, on 20th July 1938 and her family moved to India soon after she was born. On her return to England she enrolled at RADA and in 1959 joined the Royal Shakespeare Company and appeared in numerous Shakespearian stage performances before starring in 'The Avengers.' She'd attended the auditions on a whim and had never seen the programme.

Diana Rigg appeared as Mrs Emma Peel in 'The Avengers' TV series from 1965-1968 and her costumes were specially designed for her and took full advantage of the avant-garde, op art style of the Swinging Sixties with a series of trouser suits in material ranging from wool to PVC, miniskirts, evening dresses, pyjamas and catsuits.For her initial series, John Bates was brought in to design her wardrobe which had to be both contemporary and timeless. Rather than the leather material favoured for Honor Blackman's Mrs Gale character, Bates used lace, silks, plastics, lame and crepe. Diana displayed her legs in tights while wearing a Robin Hood costume in 'A Sense of History', wore leotards in a keep-fit class in 'How to Succeed…At Murder' and was decked out in fairly skimpy materials when she dressed as a Middle Eastern dancing girl in 'Honey for The Prince.' Her most outrageous outfit, however, was the one she wore in 'A Touch of Brimstone.' where during an investigation she joins the notorious Hellfire Club and is dubbed 'The Queen of Sin', dressing in a corset and boots with a spiked collar around her neck.

She left 'The Avengers' after three series because she didn't like the way the television company had treated her – for her first series she was receiving £10 less pay than the cameraman! After 12 episodes she rebelled and recalled "I made a bit of a stink about it. At the time it was considered very bad form. Any argument about money is ugly but I felt I was being exploited and put a stop to it." They then raised her pay from £90 to £180 per week.

For her role as Emma, Diana received two EMMY Award nominations in 1967 and 1968 in the 'Best Dramatic Actress' category. As Tracy Bond she became James Bond's wife in the 1969 movie 'On Her Majesty's Secret Service' and the same year appeared in 'The Assassination Bureau.' She also co-starred with Vincent Price in 'Theatre of Blood' and replaced Price as the host of the PBS series 'Mystery!' from 1989-2003. However, her attempt at an American comedy series 'Diana' in 1973 only lasted for 13 episodes before being cancelled.

She returned to the RSC in the Seventies and Eighties and starred in many stage productions, was awarded the CBE in 1988 and became a Dame Commander (DBE) in 1994. In her private life she was first married to Israeli painter Menahem Gueffen in 1973 but divorced in 1976. She married Archibald Stirling in 1982 and the couple had a daughter, Rachel, who has since also become a successful actress in films and television, including the TV drama serial 'Tipping the Velvet' and appearances in the 'Poirot' and 'Mrs Marple' series.

Diana has continued to be active on the stage and television and her television dramas have included the acclaimed role as Lady Dedlock in 'Bleak House'. She received the 'Best Actress' BAFTA award in 1990 for her appearance as Helen in 'Mother Love.' Recent television and film appearances include 'In The Beginning' (2000), 'The American' and 'Victoria and Albert' (2001), 'Murder in Mind', 'Charles 11: the Power and the Passion' (2003), 'Heidi' (2005) and 'The Painted Veil' (2006).