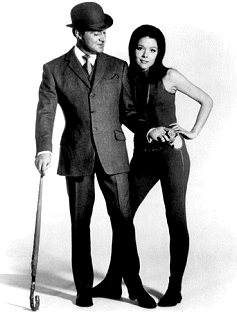 Patrick Macnee gained small screen immortality when he appeared as the dapper British secret agent John Steed in the television series 'The Avengers', which received its first screening in January 1961. Suave, sophisticated, a 'ladykiller', Steed is also a master of the martial arts and a weapons expert. The epitome of an English gentleman, down to his bowler hat and brolly, Steed made his debut in the first episode 'Hot Snow' and was the main character to appear in the long-running series. In the initial two dozen episodes, Steed's partner was Dr David Keel, portrayed by Ian Hendry.

A strike by Equity halted production for a time and Hendry decided to leave the series to take up a career in films. His character was replaced by that of Mrs Catherine Gale, a judo expert. Actress Honor Blackman played the gun-carrying blonde whose leather outfits attracted a great deal of media attention. Honor appeared in the series for more than two years, although Julie Stevens guested in six episodes during that time as Venus Smith, a night club singer who occasionally joined Steed on a mission. Sixty actresses were auditioned to replace Honor Blackman when she left the series and Elizabeth Shepherd was chosen. However, after she'd filmed one and a half episodes it was decided she didn't have the right 'chemistry' for the part.

Diana Rigg made her debut in 1965 as Mrs Emma Peel, another female martial arts expert, whose speciality was karate. The third regular female assistant in the series was Tara King, portrayed by Canadian actress Linda Thorson who made her debut in the 1969 series. 'The Avengers' ended its run with Steed and Tara setting off into space in a rocket in an episode entitled 'Bizarre.' In 1976 Steed was resurrected for 26 episodes of a series called 'The New Avengers.' Steed's assistants were Purdey, an ex-ballerina, portrayed by Joanna Lumley and Mike Gambit, an ex-SAS man, portrayed by Gareth Hunt.

'The Avengers' brought much of the style of the Swinging Sixties to the TV screens around the world: mini skirts, pop art décor, military uniforms worn as leisure wear, vintage cars, cat suits, 'kinky' boots and PVC trouser suits.

The characters who populated 'The Avengers' included many eccentrics and there was also an element of fantasy in the scripts. In one episode Steed was miniaturised, in another Mrs Peel wore exotic costumes as a member of the Hellfire Club; there were a number of episodes featuring battling robots called 'cybernauts' and an invasion from Venus turned out to be a plot by an astronomer using laser rays. In the Tara King series, a new regular character was introduced: Steed's boss, Mother, portrayed by actor Patrick Newall. Mother had been crippled by a bomb and was steered about in his wheelchair by his aide Rhoda, played by a blonde-haired Rhonda Parker. In one episode, during Mother's absence, the department was headed by Father, a blind female portrayed by Iris Russell.