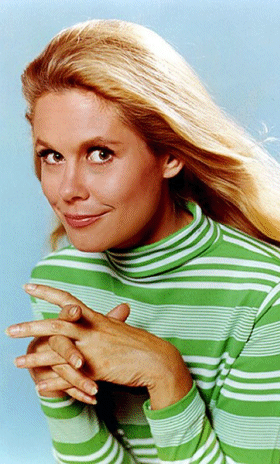 The original series of 'Bewitched' ran on ABC in America for 306 episodes from 1964-1972, but it is still screened in syndication throughout the world and is now available on DVD. The idea was first mooted in 1962 by Screen Gems Vice President, William Dozier, who told a fellow executive: "What if we did a series about a pretty young witch married to a 'straight' husband, who didn't know when he married her that she was a witch?" Of course, a similar theme had already been filmed in the Forties with Veronica Lake starring in 'I Married A Witch.'

Originally, actress Tammy Grimes was approached to play the lead, but she turned it down. Elizabeth Montgomery and her husband William Asher had been looking for a project on which they could work together and she accepted the lead, also negotiating 20% of the profits, which were to bring her $6 million over the course of the series.

Sadly, the stars: Elizabeth Montgomery, Dick York, Dick Sargent and Agnes Moorhead are all deceased. The only original members of the main cast who are still alive at the time of writing are Erin and Diane Murphy, who played Samantha's daughter Tabitha and David and Grey Lawrence who shared the role of Adam, Samantha's son. Lisa Hartman portrayed Samantha's daughter Tabitha in a spin-off series 'Tabitha' in 1997.

In the television series Elizabeth Montgomery played Samantha. She originally decided to take on the role because she wanted to work with her husband, William Asher, who directed the first 14 episodes of the series. Elizabeth was eight months pregnant at the time, so her husband had to film the first five shows without her, adding in her parts at a later date. She was to comment; "When people normally think of witches they imagine either funny old crones with long noses or someone kind of dark and sultry. The fact that I don't look exotic and witch-like is an enormous boost for the show."

On their wedding night, Samantha reveals to her husband Darrin that she is a witch who has supernatural powers. By the mere twitching of her nose, objects can move, people can disappear, mortals can be changed into animals. A distraught Darrin, very much in love with his wife, gets her to promise that she won't use her witchcraft. Despite her promise, situations occur which lead her to use her powers regularly, mainly due to the mischievous actions of her mother Endora, her father Maurice and her Uncle Arthur, the latter a practical joker. The premise launched the 306 episode half hour show (180 of them in colour) which made its debut in September 1964 and lasted until July 1972.


Asher was to say, "The show portrays a mixed marriage that overcomes, by love, the enormous obstacles in its path. Samantha, in her new role as housewife, represents the true values in life. Material gains mean nothing to her. She can have anything she wants through witchcraft, yet she'd rather scrub the kitchen floor on her hands and knees for the man she loves. It is emotional satisfaction that she craves."

Samantha's father, Maurice (Maurice Evans), lives in London but materialises in his Rolls Royce from time to time to see his grandchildren and taunt his son-in-law. There is also Uncle Arthur (Paul Lynde), a warlock who loves playing practical jokes, Aunt Clara (Marion Lorne), who is loveable but completely incompetent and Esmeralda (Alice Ghostley) who often acts as baby sitter and housekeeper, but with disastrous results.
Serena (also played by Elizabeth Montgomery) was Samantha's mischievous identical cousin.