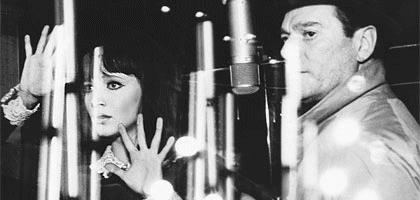 A Bible/Dictionary is owned by every inhabitant of Alphaville and new editions are distributed daily. In it, more and more words become forbidden, words such as redbreast, autumn light, conscience, tears, tenderness – all cease to exist. The inhabitants of the Outer Countries: Nueva York, Tokyorama, Florence, don't wish this mechanical monstrosity to infest their own Galaxy and have sent in agents on what amounts to a suicide mission. Caution himself is uncompromisingly tough and treats violence in an almost casual way, shooting first and not worrying about the consequences. At one point he knocks down a heavy and drives a car over his head.

Brainwashing has reduced the inhabitants to electronic slaves; robots to do the bidding of the machine whose computer centres are everywhere. The people move about like somnambulists, topped up with tranquilisers which are provided free in every room. They talk ritualistically. If you say 'Hello,' they invariably reply, "Very well, thank you, please." Caution is escorted to his hotel room by a girl devoid of emotion, a Seductress, Third Class, tattooed with a number on her back.

She offers herself to him and he rejects her, resulting in a cop bursting into his room demanding to know why he refuses the girl. Lemmy dodges as the cop takes a swing at him and they begin to fight. The cop manages to smash his fist through two glass walls and a mirror, gets himself ducked into a bath with a towel over his head, throws himself through two more glass walls and, as Lemmy grabs his gun from the bedroom, is shot.