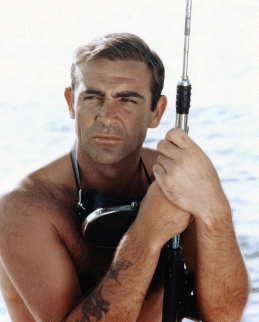 Sean was born Thomas Connery on 25th August, 1930 in Fountainbridge, Edinburgh. The family lived in a tenement and were so poor that the new baby's cot was the bottom drawer of the wardrobe. At 13, Big Tammy, as he was called, quit school and took a variety of jobs – labourer, milkman, cement mixer, coffin polisher, steel bender and printer's devil, then joined the Navy.
He was given a medical discharge after three years, due to an ulcer, and drifted into various jobs again, as a lifeguard and a male model at Edinburgh School of Art before becoming Mr Scotland in 1953 and representing his country in the Mr Universe contest (above left). He then applied for a job in the chorus of the stage show of 'South Pacific' and was asked how he'd like to be billed. He said: Thomas Sean Connery, which they thought was too long and they truncated it to Sean Connery.

A number of film parts came along, including 'Action of the Tiger' and 'Tarzan's Greatest Adventure,' but his first major role was opposite Lana Turner in 'Another Time, Another Place' in 1958 and the following year he appeared in Disney's 'Darby O'Gill and The Little People.' More artistically satisfying were his roles on television, including the part of Mountain McClintock in BBC TV's version of Rod Serling's 'Requiem for a Heavyweight' and Count Vronsky in 'Anna Karenina' opposite Claire Bloom. In 1961 Sean signed his original contract to make one Bond film a year until 1967 and for 'Dr No' he was paid £5,000.

Despite its relatively low budget, 'Dr No' had high production values and was a major success, particularly in Europe. 'From Russia With Love' consolidated the popularity of the series, but the third film 'Goldfinger', brought Bond into the big time. President John F.Kennedy had rated the book 'From Russia With Love' as number nine in his all-time Top Ten favourite books, which popularised Bond overnight in the States. 'Goldfinger' was a sensational hit in America and, at one New York cinema, it was screened constantly 24-hours a day. 'Bondmania' was sweeping the world!

'Thunderball' was initially plagued by legal problems. Some years earlier when Fleming had been trying to bring Bond to the screen, he'd collaborated on a screenplay with Kevin McClory and Jack Wittingham and later adapted it as the book 'Thunderball', without their permission. McClory had considered making 'Thunderball' on his own with Richard Burton, but came to an agreement with Eon (Saltzman and Broccoli), which involved him in the fourth film on condition that he would not revive Bond again as a film project for at least ten years.
Connery was becoming disenchanted with what he considered a low wage, now that he'd helped to establish the Bond character internationally. Everywhere he went there was merchandise with his image for which he wasn't receiving any remuneration and the media attention and constant pressure of being Bond was causing a rift in his marriage with Diane Cilento (right). Yet Saltzman and Broccoli wouldn't bring him in as a partner at Eon and so he announced that 'You Only Live Twice' would be his last appearance as 007.