It housed the hippie movement, based in the Haight-Ashbury district, and the popular songs at the time included 'Let's Go To San Francisco' by The Flowerpot Men and 'San Franciscan Nights' by Eric Burdon. At the height of the season known as 'the summer of love', Scott Mackenzie topped the charts with 'San Francisco'. On 14th January 20,000 hippies turned up for the first 'Human Be-In', called 'The Gathering of the Tribes Festival' in San Francisco's Golden Gate Park. They were entertained by a host of new bands who created what was to become known as the 'West Coast Sound' and included the Grateful Dead, Jefferson Airplane and Quicksilver Messenger Service. It was a celebration of Love and Peace and also a protest against the escalating war in Vietnam.

West Coast rock seemed to flourish throughout the year, with further San Francisco-based bands such as Country Joe & The Fish and Big Brother & The Holding Company, with singer Janis Joplin, appearing at the biggest outdoor festival of 1967 – the Monterey Pop Festival in June. The word 'hippie' was a term derived from the jazz form 'hip' – to be aware of what's going on. They comprised mainly white middle-class youngsters in their teens and early twenties, who rejected the 'rat race' and quest for material gain.
They dressed in colourful clothes, wore their hair long, were pacifistic by nature and loved dancing and rock music. They were part of a drug culture who believed that marijuana was less harmful than alcohol. They also took LSD, although they rejected hard drugs such as heroin.

The hippies were also known as 'flower children'. Their spiritual home was a district at the intersection of Haight and Ashbury Streets, which was the centre of their counter culture lifestyle. There was music in the streets, widespread use of LSD and pot, with bearded youths and pretty girls in colourful clothes arriving from all parts of America. 'Head Shops' sprung up which sold hand-made jewellery, leather and bead wear – and also pipes, roach holders and other accessories for drug users.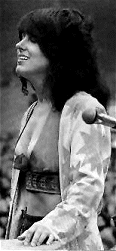 Monterey Pop Festival 1967

Friday 16th June
The Association, The Paupers, Lou Rawls, Beverly,
Johnny Rivers, The Animals, Simon and Garfunkel

Saturday 17th June
Canned Heat, Big Brother & The Holding Company,
Country Joe & The Fish, Al Kooper, The Butterfield Blues Band, Quicksilver Messenger Service,
Steve Miller Band, The Electric Flag, Moby Grape, Hugh Masekela, The Byrds,
Laura Nyro, Jefferson Airplane, Booker T and The MG's, Otis Redding

Sunday 18th June
Ravi Shankar, The Blues Project, Big Brother & The Holding Company, The Group With No Name,
Buffalo Springfield, The Who, The Grateful Dead, The Jimi Hendrix Experience, Scott Mackenzie,
The Mamas & The Papas