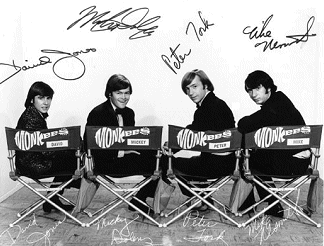 Although the group had been formed especially for the series, it was decided to include music in all the shows and the producers hired Don Kirshner to produce the material. He gathered songs from a variety of writers including Neil Diamond, Leiber & Stoller, Neil Sedaka, Carole King, Gerry Goffin and Barry Mann and produced backing music to which the Monkees only had to add their voices.

By 1967 the group were at odds with Kirshner and wanted to produce their own material and perform the music themselves, which they were allowed to do. Their first million-seller had been followed by 'I'm A Believer', written by Neil Diamond, which topped both the British and American charts.

This was followed by a million-selling debut album. Tommy Boyce and Bobby Hart, who'd penned 'Last Train to Clarksville', together with their backing group, the Candy Store Prophets, had provided the music. This situation began to irritate the two musicians in the group, Nesmith and Dolenz, particularly when 'More of the Monkees' was released, which Nesmith described as "the worst album in the history of the world." After Kirshner was ousted, the group began to perform on their own records and continued to have hits with numbers such as 'Pleasant Valley Sunday' and 'Daydream Believer.'

There were 58 episodes in the TV series and the final episode was screened in America on 25th March, 1968. During that year the group starred in a feature film, 'Head', written by Bob Rafelson and Jack Nicholson which also featured Annette Funicello, Victor Mature, Carol Doda, Teri Garr, Sonny Liston and Frank Zappa, with choreography by Toni Basil. Although a relative failure on its release, it has now gained a reputation as a cult movie.

Tork left the band as soon as 'Head' was released and the group continued as a trio, recording a TV special '33 1/3 Revolutions Per Monkee' in April 1969. This was conceived and produced by Jack Good and also featured Julie Driscoll, Brian Auger & The Trinity, Fats Domino and Jerry Lee Lewis.