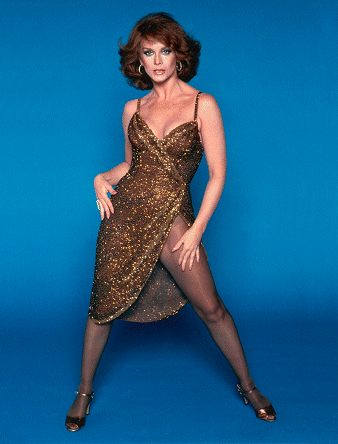 Ann-Margret is more popularly known as an actress and show business performer but she has had a long career as a singer, with more than two dozen singles issued including 'Bye Bye Birdie', 'Mister Kiss Kiss Bang Bang' and 'The Swinger' and her chart positions include 'I Just Don't Understand' (17), 'It Do Me So Good' (97), What Am I Supposed To Do?' (82) and 'Midnight Message' (12).


The Beatles introduced her hit 'I Just Don't Understand' into their repertoire in 1961 with John Lennon on lead vocal. They also recorded it on their 'Pop Go the Beatles' radio show. Interestingly enough, Delbert McLinton played harmonica on her record and it was also covered by Freddie & the Dreamers in September 1964 and by Jerry Reed in 1973.
Following the Beatles' initial success in America, the media was literally 100% behind them.

However, the scandal magazine 'Confidential', true to its image, produced an issue with the Beatles' picture on the cover and cover-lines which included the claim: "How Ringo Flipped for Ann-Margret." The magazine hinted that Ringo and Ann-Margret were having a romance and commented that Ringo had "bent her shell-pink ears with an hour of long-distance oggly-googling, all in a special Teddy Boy lingo that left little Annie limp." There were other reports that the two were linked romantically, which Ringo had to dent at press interviews during their second American tour.

Her albums include 'It's The Most Happy Sound' (1959), 'And Here She Is' (1961), 'On The Way Up' (1962), 'The Vivacious One' (1962), 'Three Great Girls' (1962), 'Bachelor's Paradise' (1963), 'Beauty And The Beard' (1964)'Songs From 'The Swinger'' (1966), 'The Cowboy And The Lady' (1969), 'Hits and Rarities' (1990), 'Hits and Rarities Vol 2' (1992), 'Lovely Ann-Margret, Hits and Rarities' (1995), 'Let Me Entertain You' (1996), 'God Is Love: The Gospel Sessions' (2001) and 'Viva La Vivacious' (2004). She was backed on 'The Gospel Sessions' by The Jordanaires and the album was nominated for a Grammy.

Ann-Margret Olsson was born in Valsjobyn, Sweden on 28th April 1941. At the age of five she arrived in America with her mother Anna, joining her father Gustaf in Chicago where he was working as an electrician. She took up lessons singing, dancing and playing the piano and became a naturalised American citizen in 1949. In November 1960 she was hired by George Burns to join his Las Vegas act (dropping the Olsson surname) and she made her movie debut playing Bette Davis' daughter in 'A Pocketful of Miracles'. Other movies she has appeared in include 'State Fair', 'Bye Bye Birdie', 'Viva Las Vegas', 'Stagecoach' and 'The Cincinnati Kid.' She was to receive Academy Award nominations in the seventies for the films 'Carnal Knowledge' and 'Tommy'.

The Flintstones cartoon series also featured her as 'Ann-Margrock' in 1960 and she sang the number 'Viva Rock Vegas' in the Flintstones feature film of that name in 2000.

Following 'Viva Las Vegas', Ann-Margret and Elvis had a brief affair until his manager, Colonel Tom Parker, stepped in and demanded Elvis end the relationship. Long after that Elvis would always send Ann-Margret flowers in the shape of a guitar whenever she opened her show. Elvis nicknamed her "Thumper" and it was her code name when she called Elvis at Graceland.

Her live performances draw record crowds in the Orient, Las Vegas and Miami. Her body of work expanded with more films, TV Specials and awards.