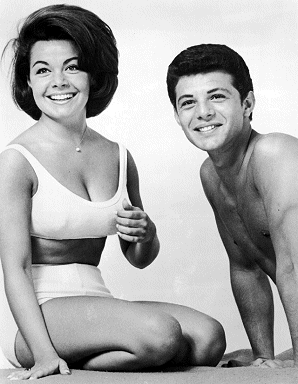 Born Francis Thomas Avallone in Philadelphia, Pennsylvania on 18th September 1939, he first entered show business as a child prodigy trumpet player and initially began singing when he was only 14 years old. In 1957 he was a member of 'Rocco & The Saints' (which also included the singer Bobby Rydell) and appeared that year in the movie 'Jamboree', performing the number 'Teacher's Pet'.

In fact, his film career proved as fruitful as his recording one, as he appeared in nearly three dozen movies including 'The Alamo', 'Voyage to The Bottom of the Sea' and 'The Haunted House of Horror'.He also appeared in 'Grease' in 1979 as the Teen Angel performing 'Beauty School Dropout' and, over the years, has continued to make guest appearances in that role in stage versions of the musical.

He is most noted for the series of 'Beach Movies' he made with Annette Funicello, that became a template for the entire film genre. They included 'Beach Party', 'Bikini Beach Party', 'Muscle Beach Party', 'Beach Blanket Bingo' and 'How to Stuff a Wild Bikini'.


In 1978 he was reunited with his former co-star in the TV movie 'Frankie & Annette: The Second Time Around' and the two co-starred once again in the feature film 'The Final Chapter - Back To The Beach' (also known as 'Malibu Beach Girls') in 1989. He also appeared in the TV movie 'The Annette Funicello Story' in 1995.

His early recordings were 'Cupid' and 'Teacher's Pet', backed by The Saints, making his chart debut in 1958 with 'Dede Dinah'. His other hits include 'Ginger Bread', 'I'll Wait for You', 'Venus', 'Bobby Sox to Stockings', 'A Boy Without a Girl', 'Just Ask Your Heart', 'Why', 'Swingin' on a Rainbow', 'Don't Throw Away All Those Teardrops', 'Where Are You?', 'Togetherness' and 'You Are Mine.' He has had 25 entries in the American charts including several million-sellers and two chart toppers - 'Venus' and 'Why'. A number of his hits were penned by his manager Bob Marucci.

Frankie ceased having hits in the Sixties, but continued to record for a number of labels, although he had more success on the US cabaret circuit.
He also appeared regularly in numerous episodes of various TV series including 'Fantasy Island', 'The Love Boat', 'Police Story', 'Happy Days', 'Rawhide', 'It Takes A Thief' and 'Burke's Law'.

Along with Bobby Rydell and Fabian he appeared on a successful 50 city tour 'The Golden Boys of Bandstand' in 1985.



Also See Sixties City Page: The Beach Movies