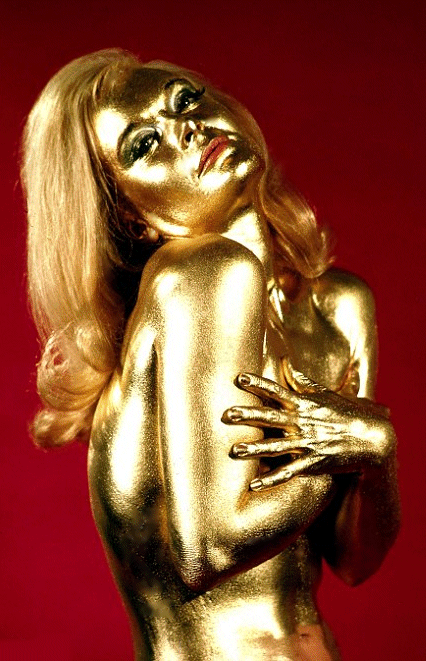 Shirley Jean Eaton was born in Edgeware, Middlesex on 12th January 1937 and made her stage debut at the age of 12 in 'Set To Partners', her TV acting debut in the series 'Parent Craft' in 1951 and her movie debut was at the age of 16 in 'A Night To Remember' in 1953. Other Fifties movies included 'Doctor In The House' (1953), 'The Love Match' (1954), 'Sailor Beware!' and 'Three Men In A Boat' (1956), 'Doctor At Large (1957) and 'The Naked Truth' (1957).
Shirley had been trained in dance and voice and took part in the British heat of the Eurovision Contest in 1957 as a singer, appeared at the London Palladium three times at the age of 17 and was in two of the annual Royal Variety Performances during the Sixties, alongside Nat 'King' Cole, Bob Hope, Maurice Chevalier and Sammy Davis Junior (she was to receive a standing ovation at the London Palladium in 2008 when she appeared there in a James Bond film celebration). She also appeared in a lead role in the East End in the stage play 'Come Blow Your Horn' at the Prince of Wales Theatre during the filming of 'The Girl Hunters' in 1963.

Her Sixties films were 'Life Is A Circus' and 'Carry on Constable' in 1960; 'Nearly A Nasty Accident', 'Dentist On The Job', 'A Weekend With Lulu' and 'What A Carve Up' in 1961; 'Our Man in the Caribbean' in 1962; 'The Girl Hunters' in 1963; 'Goldfinger' and 'Rhino' in 1964; 'The Naked Brigade' and 'Ten Little Indians' in 1965; 'Around The World Under The Sea' in 1966; 'The Scorpio Letters', 'Eight On the Lam', 'The Million Eyes of Sumuru' in 1967; 'The Blood of Fu Manchu','The Girl From Rio' and 'The Seven Secrets of Sumuru' in 1969.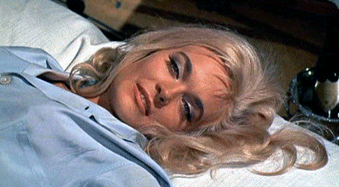 She also appeared on TV in the Sixties in episodes of series such as 'Man of the World' and featured in three episodes of 'The Saint', between 1962 and 1988, as the character Adrienne Halberd. 'The Seven Secrets of Sumuru' was her final film. Following appearances in some 30 films, she decided to retire from acting to look after her husband, building contractor Colin Rowe who she married in 1957, and two children Grant and Jason and was later to say "A career is a career, but you're a mother until you die". She even turned down a starring role opposite Richard Burton.The blonde-haired actress had been a stunning beauty in quite a few of the strictly British film series of the Sixties – the 'Doctor' series, the 'Carry On' series and the James Bond blockbusters. She also appeared in a number of American movies – acting as a double for Janet Leigh in 'Prince Valiant' and starring in 'The Girl Hunters' with Micky Spillane and Bob Hope in 'Eight on the Lam'.

Having decided to retire from films, the family was eventually settled in a farmhouse overlooking Monte Carlo. When Colin passed away in 1994, Shirley decided to return to England. Her autobiography 'Golden Girl' was published in 2000. She was also to publish a collection of her poetry entitled 'Shirley Eaton's Golden Touch', in which Sir Roger Moore provided the introduction. Although it was relatively brief, Shirley's most famous role was that of Jill Masterson, in the James Bond movie 'Goldfinger', where she lounged on a balcony in black lingerie and was particularly notable in the scene where she had been gilded in gold. For the scene, which only lasted for five minutes in the film, Shirley had to undergo two hours of preparation for the make-up to be applied. Since she was being painted with gold, a doctor had to be present on the set throughout in case of possible skin suffocation. In fact, skin suffocation can't actually occur! Shirley then had to have the gold paint removed from her body, which required her being scrubbed down by the wardrobe mistress and make-up girl, and she then had to sweat off the remaining gold paint in a number of Turkish baths.

These days Shirley likes to paint, write poetry and occasionally appears at film conventions. She has commented, "I'm very expressive, but I'm also a very private person. It is so hard to be private in the entertainment business. I'm really glad that I was famous and successful at the time I was, because it was bad enough then in a profession which tended to eat you up and never give you any free time. But I think that the youngsters today have a really bad time from every angle".

Also see Sixties City Pages: James Bond Films and Carry On Films