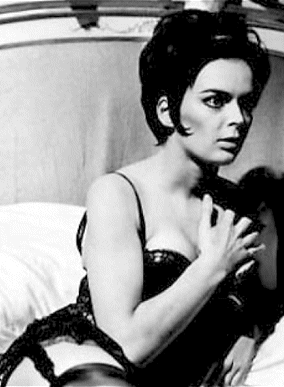 "I love witchcraft, the supernatural, all that's intuitive. I don't like people who are natural," said the devilishly beautiful actress whose appearances in the Sixties horror movies continues to attract a cult following.

The undisputed horror queen of the 60s was Barbara Steele, a British actress with eerie, mysterious good looks: large dark eyes, high cheekbones, jet black hair and full lips. Her journey into the shadowy world of witches and vampires occurred by accident. She'd been filming 'Flaming Star', the Elvis Presley western, for a few days, wearing a ridiculous blonde wig when she decided to walk out on the project. It put paid to her contract with 20th Century Fox.
She said, "They broke the contract when I walked out on the movie. The whole thing blew up into an enormous scandal in Hollywood". She'd been cast as Roslyn Pierce and said, "I was this dyed blonde, hard-browed, hard brute, lousy Texas sister or something. Barbara Eden completed the part".

Barbara was born in 1937 aboard a ship ploughing from Dublin to Liverpool. At the age of 20 she decided to become an actress and started appearing in Rep at Brighton Pier. This led to a contract with Rank (she was the last actress to be signed by Rank), a stint with the Rank Charm School and an appearance in five Rank films, beginning with her debut in 'Bachelor of Hearts' in 1958. Cary Grant was impressed by her visual appeal on screen and wanted to put her under contract, but the studio demanded a ridiculous fee. 20th Century Fox heard about Grant's interest and immediately made a deal with Rank to buy her contract.

She said, "I went to Hollywood and sat on a bench for two years. The very few things they did offer were no good at all. I was trying to get out of it all the time". After walking out on 'Flaming Star' she found herself in Italy where she was offered the part of Asa, a witch, in Mario Bava's first film, 'Black Sunday', loosely based on Nicholas Gogol's classic horror short 'The Vij'.

The film was banned in Britain for eight years, but it led to Barbara becoming a horror icon. American director Roger Corman spotted her in 'Black Sunday' and asked her to play Elizabeth in 'The Pit and the Pendulum', the latest in his Edgar Allen Poe series, starring Vincent Price.

From her base in Rome she appeared in a string of macabre movies, including 'Dr Hitchcock's Hidden Secret'; 'The Spectre of Dr Hitchcock'; 'Danse Macabre'; 'The Maniacs'; 'The Long Hair of Death'; 'Five Graves for a Medium'; 'Orgasmo'; 'An Angel for Satan' and 'Return of the Blood Beast'. In 1968 Barbara left Italy saying, "I'm never going to climb out of another coffin as long as I live" but returned to Britain to star with horror kings Boris Karloff and Christopher Lee in 'The Curse of the Crimson Altar'.

This was the last real horror film she made as she decided not only to wind up her career in the horror genre but also to go into semi-retirement from screen appearances in general. In the succeeding years she has only appeared in a few films, including 'Caged Heat' in which she played a sadistic wheelchair-bound warden in a women's prison; David Cronenberg's 'Shivers' and 'I Never Promised You A Rose Garden' (1977); 'Pretty Baby' (1978); 'Piranha' (1978); 'The Space Watch Murders' (1978) and 'The Silent Scream' (1979).