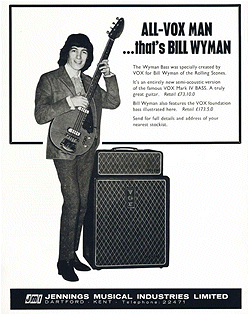 Even so, by 1966 Thomas Organs, not getting enough product to fulfil their US orders, started to construct VOX amplifiers themselves. These were sold with rather strange 'British' names such as 'Viscount', 'Essex', 'Westminster', 'Royal Guardsman' and 'Buckingham'. Their flagship product was a 100-watt amplifier that was christened 'Super Beatle'.

By 1967 Jennings had been removed and Denney had left the company, which filed for bankruptcy in 1968. During the bankruptcy proceedings some of the former JMI management were permitted to resume production of the more recently introduced solid state amplifier designs under the name VOX Sound Equipment Ltd. (VSEL). Although some hand-wired AC-30 and 50 amplifiers were made, no other new models were introduced and they had a problem with the fact that the solid-state amps just didn't sound the same as the valve-based ones.

The company name was shortened to VOX Sound Limited (VSL) and itself filed for bankruptcy in 1969. During this bankruptcy period the company assets were held by the British banking firm Corinthian Securities and the only new product produced was an updated version of the 'Jaguar' organ which was marketed under the name 'Corinthian'. VOX was purchased by Birch-Stolec Industries in 1970 and the manufacturing base was again moved, this time to Hastings in Essex. Birch Stolec were the owners of Lemark Transformers who were one of the major creditors from the VSL bankruptcy. They retained the 'VSL' brand under which they produced the V100 Head (a 100 watt, printed circuit, all tube amplifer) and PC board versions of the AC-30 and AC-50.

Also produced at this time were minor version revisions of the solid state VOX amplifiers originally produced by JMI in 1967. Former bass guitarist of the Dave Clark Five, Rick Huxley, became the sales manager for the new productions. In 1973 Dallas Musical Industries (Dallas Arbiter), who produced the 'Sound City' amplifier, bought VOX from Birch-Stolec. They replaced the PC board AC-30 and 50 amps (which had a number of problems) with hand wired models rather similar to the original JMI designs. DMI also introduced the AC-120 and Escort 30 amplifiers.

In 1978 DMI sold VOX to Rose Morris (the distributor of Marshall amplification equipment throughout Europe in the 1970s), who bought the company as a 'safety net' against losing their distribution contract with Marshall. The name of the company was again shortened, becoming 'VOX Limited' under which they introduced the V125, the Escort 50, the Venue and "Q" series of amplifiers and further modifications of the AC-30.
Paul McCartney still tours with the RM-produced VOX AC-30 heads. Korg eventually purchased VOX from Rose Morris in 1993, starting a new era of increased production and innovation.