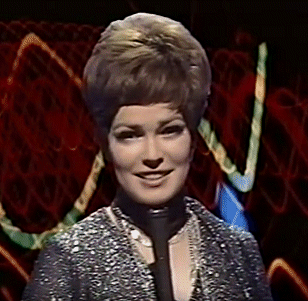 The last offering of the 1960s was a one-off 75-minute TV 'special' called 'Pop Go The Sixties!', a celebration of Sixties music, broadcast in colour on 31st December 1969 and shown on both stations on the same day, with some other European stations broadcasting the programme on either the same day or later. Although classed as a co-production, it was primarily produced by the BBC and was recorded at the BBC's Television Centre in London, in late 1969, featuring mainly British pop acts and hit songs. The end titles were in both English and German.

The show was co-presented by Jimmy Savile and Elfi Von Kalckreuth. Both presenters introduced each act (with the exception of Cliff Richard), but neither was actually present for the artists studio recording, their links being added later. Savile presented in English and Elfi Von Kalckreuth spoke in German throughout. The show was produced by the BBC's Johnnie Stewart with Stanley Dorfman directing. Both of these men were regularly involved with the production of the BBC music show 'Top Of The Pops' and, therefore, the end of year show had a very similar look and production style. Klaus Weiding was the co-producer for the German station.

The artists performed on platforms, surrounded by a standing audience who were encouraged to dance along with the music. A few of the artists present in the studio performed live, singing with a backing orchestra directed by Johnny Harris, but many mimed their hits to their original studio recordings. The Ascot Dancers performed with a large number of the artists. Strangely, although an Anglo-German co-production, only one German artist appeared - Horst Jankowski with 'A Walk in the Black Forest' - and even that was on a pre-recorded film insert. The only song actually performed in German was by Sandie Shaw - 'Wiedehopf Im Mai' which was a version of her Eurovision-winning 'Puppet on a String'.

The participating artists were, in order of appearance:
The Who - 'I Can See For Miles', Adam Faith - 'What Do You Want?' and 'Someone Else's Baby', The Tremeloes - 'Silence Is Golden', Lulu - 'Boom Bang-A-Bang', Kenny Ball & His Jazzmen - 'Midnight in Moscow', The Bachelors - 'Charmaine' and 'Diane', Sandie Shaw - 'There's Always Something There To Remind Me' and 'Wiedehopf Im Mai', The Marmalade - 'Ob-La-Di Ob-La-Da', The Johnny Harris Orchestra & The Ascot Dancers - 'I Can't Get No Satisfaction', The Kinks - 'Days', Horst Jankowski - 'A Walk In The Black Forest', The Hollies - 'He Ain't Heavy, He's My Brother', Helen Shapiro - 'Walking Back To Happiness', Tom Jones - 'Delilah', The Rolling Stones - 'Gimme Shelter', Cilla Black - 'Anyone Who Had A Heart', The Shadows - 'Apache', Cliff Richard & The Shadows - 'Bachelor Boy', Cliff Richard - 'Congratulations', The Beatles - 'I Feel Fine' and 'Help!', Dusty Springfield - 'You Don't Have To Say You Love Me'.