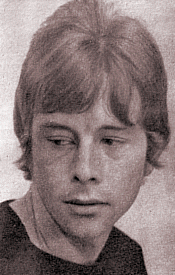 Emmett kindly provides some memories from the Sixties, and his life, as recounted to Sixties City on 16th June 2004. Emmett may not be a personality whose name you immediately recognise but you will almost certainly have seen him as he appeared in many television programmes, films and documentaries, was signed by EMI and released two singles and has performed musically at many significant venues during and since the Sixties.

"I attended the Guildhall School of Music and Drama as a part-time student while still at school at the London Oratory. I started doing bit parts in the early Sixties, in movies such as Lolita, The Young Ones, The Victors and Cleopatra, so I saw all the big Hollywood stars as a teenager, quite a thrill. I remember getting 'the eye' from Rock Hudson but, of course, thought nothing about it then. Who knew? I did a lot of work for the BBC and was once directed on an episode of Z Cars by a then unknown Ridley Scott. I was quite involved in the 'Beat' scene at the time and was able to source a bunch of authentic hairy 'Beats' needed for that particular Z Cars scene. I still have a great BBC still photo of the gang confronting a copper. I did some work in The Wednesday Play 'Cathy Come Home' with Ken Loach, who seemed to love the fact that I was an authentic Cockney, and I also appeared in 'Up The Junction'.

I guess my biggest gig was getting a starring role in the sexploitation flick, 'The Loves of Cynthia', which was filmed in Denmark in 1972. Fortunately my co-stars were already friends of mine from the acting scene (Paul Kirby and Flanagan) so it was fun. I actually found a company on the net recently that had copies of the film so I called them to order it and they sent me a free copy! I'd never seen it, didn't know the proper name of it, but just discovered it by typing my name into a search engine. It was quite amazing to see it after all these years. If you look it up, the guy on the poster art is me at 27.

Anyway, I was also into folk music and played guitar as we all did, but I was one of the better ones, busking in Cannes and the streets of London, and was featured in a TV documentary called 'The Buskers', which also featured an artist called Don Partridge. I used to hitch-hike to Brighton on holiday weekends, sleep on the beach and sing songs. My most interesting memory of that scenario was, right there in the thick of things, begging money for drinks on the street and pinching song books from a music shop in the West End was Rod Stewart, who was a buddy of mine at the time. Needless to say, he was even better than me at this music thing. I did the documentary 'Primitive London' in which, not as an actor but supposedly as a genuine Beatnik, the camera crew filmed me and my colleague, Ray Sone performing some folk music at the 'Duke of York' pub in the West End and we told about our exploits busking in the South of France. That's the film I would really love to get my hands on but I can't seem to understand how their web companies operate in terms of ordering the stuff online. Maybe I should try and call them first like I did with the over movie supplier".