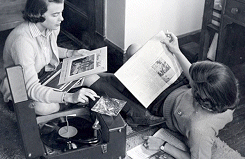 Well, I've thought about doing this for some time - no particular reason - but having got around to it I didn't realise how hard it actually is! If you don't believe me - have a go yourself! It was originally going to be my 'Top 100' but, on starting to choose, realised that there are just far too many records which I would want to have included. In fact, even 300 hardly covers it, but I've made the effort! I wonder if my choices are close to what yours might be? I would certainly find it impossible to put them in any sort of order because records here reflect my own personal choice, either through being Sixties icons, innovative, quirky, sounds I love or just records that hold a special memory for me.
Obviously, there are many, many other records and tracks that I like (and quite a few, surprisingly, that I don't but I'm not going to tell you which!). I love the Sixties artists - people who could actually compose, sing, play instruments and entertain - many of whom I have had the privilege and pleasure of meeting or seeing live over the years - but not necessarily everything they've ever done (which is the main reason why I'm not a huge LP fan) - I like to pick and choose.

The side columns contain my '300' from the British Sixties charts (see my listings via the link at the top) but also, as a bit of an extra insight, and because I wanted to share them, I have included a few 'bonus' recordings that are special to me but were either 'B' sides, not released as singles or did not necessarily chart in the UK - I do hope you will give them a try if you haven't come across them before. I'd actually be interested to hear your comments.
Regardless, each entry, as far as possible, is linked to a decent YouTube entry to listen to or watch, which I hope you will find to be entertaining, enjoyable and maybe provocative of some happy memories.
Just click on the selected track . . . . . Although checked now and then, do please let me know if any of the links are no longer viable and I will replace them - enjoy!