1954 Devil Girl From Mars





Sound editor (as Gerald Anderson)

---
1955 You've Never Seen This
Polytechnic Films

No image available


Directed by Gerry Anderson
A 3-part pilot television series that featured people doing strange things or with unusual talents, featuring three items from Belgium - The art of `Tapis de Sable' (sand painting) and the artist Pierre van Ransbeck; A cyclist attempting to beat the cycling land speed record of 109 mph and an 8ft tall man showing Peter Collins (the producer) the sights of Brussels. It was made for possible sale to the Independent Television Network. Polytechnic films was based at Taplow, Bucks. and went into liquidation in 1957. The series was never shown and so the title became a self-fulfilling prophecy. From Polytechnic, AP Films was born, comprising of five members of Polytechnic: Gerry Anderson, Arthur Provis, Reg Hill, John Read and Sylvia Thamm.

---
1956 Kellogg's Cornflakes
Pentagon Films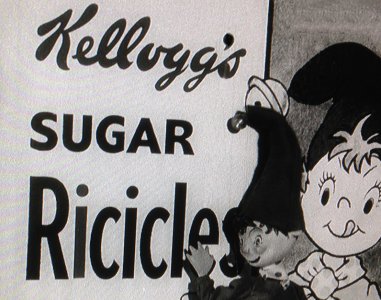 Director: Gerry Anderson (uncredited)
Director of Photography: Arthur Provis (uncredited)
Camera Operator: John Read (uncredited) Art Director: Reg Hill (uncredited)

One episode only, which featured the puppet character Noddy to advertise Kelloggs Sugar Ricicles breakfast cereal, made at Pentagon's Berry Hill studio using the original puppets


---
1957 - Martin Kane - Private Investigator (Private Eye)
Towers of London / Ziv TV / ABC



39 x b/w 30min episodes Transmitted: 1958 - 59
Produced by Harry Alan Towers
Some episodes directed by Gerry Anderson (no other information)
Starring William Gargan and Brian Reece and originally titled 'The New Adventures of Martin Kane'
Martin Kane (Gargan), a New York private detective, assists Scotland Yard Superintendent Page (Reece) from his London Base, in the classic 'cops and robbers' style.
Made at the Associated British Pathe Company studios at Elstree.


---
1957 - The Adventures of Twizzle
Produced by AP FILMS for Rediffusion Television

52 x b/w 15min episodes First transmitted: 13th November 1957
Created and written by Roberta Leigh Directed by Gerry Anderson
Art Director: Reg Hill


Twizzle is a lost boy doll who lives in a place called Straytown with all the other lost or unwanted toys including his friends Footso, the black cat, Candy Floss, Jack-in-the-box and Jiffy the broomstick man. They are looked after by the Toy Inspector. Twizzle has the strange ability to be able to stretch his arms and legs to incredible lengths.

It is largely for Gerry Anderson's direction that the series is remembered, even though he contributed to only the first 26 episodes. Made at Islet Park studio on a budget of £450 per episode. 'Video assist' first used in this series, allowing production crew other than the cameraman to be able to see the shot in progress, a technique soon widely adopted by the industry.
Sylvia Anderson recalls "we did not all dote on puppets as children and have puppet theatre: the raw truth is that we needed the work and that is all there was on offer."


Twizzle And Footso
Twizzle And Footso Get Caught
Twizzle Saves The Doll
The Breakdown Van
Footso Is Stolen
Twizzle And The Golliwog
Jiffy And Chawky Quarrel
Footso Disappears
Twizzle And The Broken-Down Toy
Twizzle Builds Stray Town
A Flag For Stray Town
Jiffy's New House
Twizzle And Footso Go Fruit Picking

Twizzle Has Some Fun
Twizzle And Candy Floss Open A Cake Shop
Twizzle Saves The Broken-Down Toys
Twizzle Gets Lost
Jiffy Opens A Barber Shop
Another Racing Car
Twizzle And His Friends Go To The Circus
The Toys Go To School
Bouncy The Ball
Jack-In-The-Box
Twizzle Catches Cold
The Naughty Girl
Jiffy's New Twigs
Twizzle And The Snowman
Twizzle And The Thin Teddy Bear
The Lazy Broomstick Man
Twizzle And The Polly Moppet
Footso And The Magic Seeds
Jiffy And The Polly Moppet Quarrel
Footso Gets A New Tail
Twizzle Is Naughty
Twizzle Is Stolen
Chawky Gets A Present
Twizzle And The Toy Inspector
Twizzle And The Naughty Breakdown Van
Orange And The Banana Tree
Jiffy's Birthday
Polly Moppet Disappears
Naughty Polly Moppet
Footso And The Naughty Girl
Stray Town Thief
Twizzle Papers The Cabin
Twizzle And Footso Go Camping
Twizzle Goes To The Seaside
Twizzle Goes To The Fair
Twizzle Goes Fishing
Twizzle Goes To The Zoo
Candy Floss's Birthday
Footso Has A Toothache

---
1960 - Torchy the Battery Boy
Produced by AP FILMS for Pelham Productions Limited



2 series of 26 x b/w 15 min episodes First transmitted: 23rd February 1960
Created and written by Roberta Leigh Series One directed by Gerry Anderson
Torchy, a clockwork toy with a battery-powered light on his hat, travels in his space rocket to and from Topsy-Turvy Land, where all the neglected and mistreated toys live and come alive to join in his adventures.
Other characters included Mr Bumble-Drop, King Dithers, Bossy Boots, Pom Pom, Flopsy, Pilliwig, Sparky, Squish and Pongo.


3-Dimensional sets were introduced for the first time on this series and puppets were fitted with moving mouths and eyes. Roberta Leigh went on to make a second series of Torchy with Associated British Pathe.


Series One
Pom-Pom And The Toys
Topsy Turvy Land
Torchy And Squish
The Building Of Frutown
Torchy And The Broken Rocket
King Dithers
Torchy Goes Back To Earth
Bossy Boots Goes To Topsy Turvy Land
Bossy Boots Is Taught A Lesson
A Bell For A Penny Farthing
A Trick On Pom-Pom
Torchy Is Stolen
King Dithers Loses His Crown

Pilliwig Gets A Present
Bad Boy Bogey
Torchy And The Strange Animal
Bossy Boots Forgets To Be Good
Hungry Money Box
The Naughty Twins
The Twins Learn A Lesson
King Dithers Goes Down To Earth
Torchy Escapes At Last
Torchy And The Man In The Moon
Bogey And The Statues
The Moon Falls Asleep
Torchy's Birthday
Series Two
Flopsy Goes On A Picnic
Torchy Gets A Surprise
Banana Bridge
King Dithers And Daffy
The Toys Get The Collywobbles
Bogey Learns Another Lesson
The Pollikan Bird Is Stolen
Torchy Has An Accident
Sparky The Dragon
Bogey Is Naughty Again
Pilliwig Cleans The Chimney
Pongo The Pirate
Pongo And The Gold Mine

King Dithers' Birthday
Washing Day In Topsy Turvy Land
Gluebell Wood
Squish Falls Down A Well
Flopsy In Trouble
The Big Storm
Daffy's Birthday
Flopsy Makes A Christmas Pudding
Gilly Golly In Trouble
King Bumble Drop
A New Suit For Pilliwig
The Obstinate Donkey
Pom-Pom Gets The Hiccups

---
1960 - Four Feather Falls
Produced by AP FILMS for Granada Television



39 x b/w 15 min episodes First transmitted: 26th February 1960
Created by Barry Gray Directed by Gerry Anderson


Sherrif Tex Tucker saves the life of Makooya, the son of indian chief Kalamakooya and is rewarded with four magic feathers which, among other things, enable his guns to fire by themselves and allow his dog, Dusty and horse, Rocky to be able to talk to him. The series villains are Pedro the bandit and his sidekick Fernando. Other main characters in the storylines were townspeople Martha Jones, Grandpa Twink and Little Jake.
Barry Gray created the concept for Four Feather Falls but he did not write the first episode, 'How It Began'. This episode was actually written by Mary Cathcart Borer. The theme song was sung by Michael Holliday. Voice artists included Kenneth Connor, Denise Bryer and David Graham. Glass fibre was used for the puppets' heads for the first time and electronic lip-synch was first tried. The pilot episode was the last output of Islet Park studio. Production moved to a warehouse on the Slough trading estate which became known as the Ipswich Road studio. Arthur Provis left the partnership amicably during this period, going on to work with Roberta Leigh on 'Sarah and Hoppity' and another of her wonderful creations - Space Patrol (picture)


1. How It Began
2. Kidnapped
3. Pedro Has A Plan
4. Pedro's Pardon
5. A Close Shave
6. Indian Attack
7. Sheriff For A Day
8. Dusty Becomes Deputy
9. Gunrunners
10. Trouble At Yellow Gulch
11. Frame-Up
12. Gold Diggers
13. Gold Is Where You Find It
14. Trapped
15. Best Laid Schemes...
16. Escort
17. The Toughest Guy In The West
18. Chance Of A Ghost
19. Gunplay
20. A Lawman Rides Alone
21. Jailbreak
22. A Little Bit Of Luck
23. Landgrabbers
24. Once A Lawman
25. Election Day
26. Gunfight On Main Street
27. A Bad Name
28. Horse Thieves
29. The Ma Jones Story
30. Bandits Abroad

31. A Cure For Everything
32. Teething Troubles
33. Buffalo Rocky
34. Safe As Houses
35. First Train Through
36. Happy Birthday
37. Fancy Shootin'
38. Ambush
39. Ride 'Em Cowboy

---
1960 - Supercar
An AP FILMS production in association with ATV for ITC worldwide distribution

39 x b/w 30 min episodes in 2 series of 26 and 13 First transmitted: 28th January 1961
Conceived by Gerry Anderson and Reg Hill Produced by Gerry Anderson
Based in a secret laboratory, Black Rock, in Nevada, Supercar is a prototype vehicle invented by Doctor Beaker and Professor Popkiss which can travel underwater, through the air and even into space, piloted by Mike Mercury. Assisted by 10 year old Jimmy Gibson and Mitch the monkey who they rescue, much of their time is spent thwarting the villains Masterspy and Zarin who are trying to steal the secrets of Supercar.

There was a second series of Supercar - the first 26 episodes constituted season one (broadcast January to September 1961) while the last 13 comprised season two (broadcast March to February 1962). The making of Crossroads To Crime took place between the two seasons. George Murcell was unavailable to voice Prof Popkiss in the second series, which is why he was replaced by Cyril Shaps.

Supercar was one of the first British shows to be sold to America by ITC, shown there in Autumn 1962. It was preceded by 'The Adventures Of Robin Hood' which began on CBS in September 1955, followed by
'The Adventures Of Sir Lancelot' (1955), 'The Buccaneers' (1956), 'The Count Of Monte Cristo' (1956), 'The Four Just Men' (1957), 'The New Adventures Of Charlie Chan' (1957), 'The Adventures Of William Tell' (1957) and 'Danger Man' (1961). There were a few 'firsts' - the first 30 minute series, Jimmy Gibson was Sylvia Anderson's first voice part and the opening titles showing Supercar flying through the clouds were the first time back-projection was used. The term 'Supermarionation' was invented for the promotional literature for the series to describe the lip-synch procedure used in the puppets.

---
1960 - Crossroads to Crime
AP FILMS / Anglo-Amalgamated



Film - b/w 57 mins Premiere: November 1960
Produced by Gerry Anderson You Tube
A young policeman, Don Ross, uncovers a plot by a gang of would-be hijackers operating from a local cafe. He pretends to be corrupt in order to try and foil their plans for a £20,000 hijack of nickel alloy ingots.


The first and only to be directed by television producer Gerry Anderson, and also the only feature-length film to be made by his production company, AP Films.
Made between the two series of Supercar, this was a 'B' support movie. Crossroads to Crime is often included in the syndication package for the Edgar Wallace Mysteries
series but is an unrelated release only included to help with sales. Stars: Anthony Oliver, Ferdy Mayne, George Murcell, Miriam Karlin and David Graham.



---
1960 - Blue Cars Holidays
AP Films / Century 21 Productions (uncredited)





3 x 1 minute film sequences
Producer: Nicholas Parsons (uncredited) Script: Nicholas Parsons, David Ellis (uncredited)
Director: Gerry Anderson (uncredited) Director of Photography: John Read (uncredited)
Art Director: Reg Hill (uncredited) Cast: Nicholas Parsons, Denise Bryer (uncredited)

Commercials made for Nicholas Parsons' production company on behalf of Blue Cars Holidays.


Also made between the two series of Supercar. One of these, 'Martians', won the Grand Prix prize in the
Commercial Services category at the first British TV Commercial Awards in 1961, organised by the Television Mail.
A second one, the 'French' one, came third in the same category. ( Nicholas Parsons and wife Denise Bryer pictured )




---
1962 - Fireball XL5
An AP FILMS production in association with ATV for ITC worldwide distribution




39 x b/w 30 min episodes First transmitted: 28th October 1962
Produced by Gerry Anderson
Set in 2063, Steve Zodiac is the pilot of Fireball XL5, the flagship of the fleet of the World Space Patrol, based in galaxy sector 25. In his crew are the blonde, curiously un-surnamed space doctor Venus,
bespectacled Professor Matthew Matic, the transparent robot Robert and alien 'pet' Zoonie the Lazoon.
The first series to use the concept of a world class organisation combatting evil and the first British children's television programme to be taken up by an American network. Transmitted by NBC Television in 1962. This was the only show ever to contain a Gerry Anderson-voiced character, albeit unrecognisable as Robert the robot! AP FILMS were sold to Lew Grade at ATV in 1962, prior to the production of Stingray and the studios moved to larger premises at Stirling Road on the same estate.




---
May 1963 - Lyons Maid Ice Cream Tie-Ins
'Zoom', 'Sea Jet', 'FAB', 'Super Sea Jet', 'Orbit' and 'Smash'
J.Lyons & Co.



April / May 1963 'Zoom' was a 'Lyons Maid' ice rocket in three flavour stages: lime, lemon and strawberry. It was one of the first lollies advertised on television and in cinemas.
Lyons engaged Gerry Anderson to make the colour commercials, featuring Fireball XL5 and Colonel Steve Zodiac, resulting in its becoming a best-seller.
Thunderbirds and Joe90 were also later used to promote 'Zoom',

'Sea Jet and 'Super Sea Jet' lollies were also produced and a number of advertisements starring Stingray were made to promote the 'Sea-Jet' ice lolly.
'Sea Jet' was available in four flavours vanilla, strawberry, lemon and orange. The 'Super Sea Jet' (which cost 2d. more) had three flavours in one, mint and vanilla dipped in chocolate.

May 1967 saw the launch of the legendary 'FAB', with its Thunderbirds and Lady Penelope tie-ins. Designed for girls in the 5-15 age group, the 'hundreds and thousands' sprinkled
on top of a chocolate tip were intended to give it a feminine and sophisticated look. The lolly itself consisted of strawberry and vanilla ice with the top portion dipped in chocolate.

May 1968 'Orbit' was a rocket shaped lolly tied in to Captain Scarlet and The Mysterons. It somewhat resembled 'Zoom' but was chocolate and orange flavoured.

March 1969 A new range of 4d ice lollies were launched, called 'Smash', available in four flavours: orange, strawberry, banana/chocolate and strawberry/vanilla.
Advertising was tied in to the Thunderbirds TV programme and the launch was linked to a promotional camera offer.

The 'Super Sea Jet' was also re-launched in two versions: raspberry/orange and strawberry/vanilla with a choc-dipped nose cone.

March 1972 'Zoom' relaunched as 'Super Zoom'

March 1976 'Space 1999' was launched at a price of 7p, a lime, vanilla and strawberry flavoured lolly with a soft centre and a picture card in each pack.


J.Lyons & Co



This is a near complete collection of the original 1960's Supermarionation commercials for Walls, Lyons Maid & Kellogg's.



---
1964 - Stingray
An AP FILMS production in association with ATV for ITC worldwide distribution




39 x colour 30 min episodes First transmitted: 4th October 1964
Produced by Gerry Anderson
Set in the year 2064, Stingray, an advanced submarine belonging to W.A.S.P. - the World Aquanaut Security Patrol - is crewed by pilot Troy Tempest and hydrophones operator Lt. George 'Phones' Sheridan. They are assisted by the underwater-breathing Marina, rescued from Titanica by Troy in the first episode. Her father is Aphany, ruler of the undersea kingdom of Pacifica. In between fighting the terror fish of the evil Titan and his amphibians and outwitting their agent X20, Troy is caught in the eternal triangle with the non-speaking Marina and Atlanta, the daughter of Commander Shore, head of their Marineville base.

Stingray was the first series in which episodes were filmed simultaneously by crews working on two completely separate soundstages with duplicated sets and puppets. On Fireball XL5 the limited studio space meant that the two crews shared the facilities on a single soundstage and moved between the sets on a definite rota.


No pilot episode was made for this series as it was directly ordered by Lord Lew Grade. This was the first children's series made entirely in colour ( for the American market ), although 30 episodes of 'The Adventures of Sir Lancelot' were made in colour in 1955. First shown on British TV in black and white, the colour process used was christened ' Videcolor'. Probably most remembered for the haunting end theme 'Aqua Marina', a chart hit sung by Gary Miller and written by Barry Gray. 'Stingray' was designed by Reg Hill.
---
1965 - Thunderbirds (series 1 )
AP FILMS / ITC



Series 1 - 26 x 50 min episodes First transmitted: Thursday 30th September 1965
Producer: Gerry Anderson Associate Producer: Reg Hill

Set in 2065, the Tracy family, operating from their secret Pacific Ocean island base as International Rescue, save the world from disasters of various sorts using the inventions of Hiram 'Brains' Hackenbacker. Dad - Jeff Tracy - ex lunarnaut - is the boss and the various craft are piloted by his sons Scott (TB1), Virgil (TB2), Alan (TB3), Gordon (TB4) and John (TB5), with assistance at various times from their faithful manservant Kurano and his daughter TinTin. Also helping is their glamorous British agent, Lady Penelope Creighton-Ward and her chauffeur Aloysius 'Nosey' Parker in the fabulous six-wheeled pink Rolls-Royce FAB 1. Amongst their many problems is the master criminal 'The Hood', who is constantly trying to discover their secrets.

AP Films had been shooting episodes simultaneously since Fireball XL5. Without this, a shooting schedule of two weeks per episode would have taken 18 months to film Fireball XL5 and another 18 months to film Stingray, whereas both series were actually completed in half that time. For the 50 minute-long Thunderbirds episodes the schedule for each was expanded to four weeks, but with simultaneous shooting the first season 26 episodes were completed in just over a year.


Thunderbirds was not a success in America, which is why the show was cancelled early and a new show commissioned. It was not shown in the U.S.A. until 1968, after a greater success by Captain Scarlet.
The Tracy boys are all named after real-life astronauts. The pilot episode 'Trapped in the sky' was only 25 minutes long but expanded to 50 minutes on the orders of Lew Grade.
This helped to improve the storyline and character development. The 'Roller-road' was first conceived and used during the series for ground vehicle motion shots.
Each episode of Thunderbirds contained, on average, 100 SFX shots. This was also the first series not to be screened in a childrens' TV slot.



---
1965 - Concorde

Footage of a model Concorde taking off was produced for British Airways to use in a documentary.
When the Concorde made its maiden flight to Toulouse, France, to be unveiled, it was greeted by the
Band of the Royal Marines striking up Barry Gray's 'Thunderbirds March'.


No other information available.




---
1965 - TV Century 21 Paper and Century 21 Records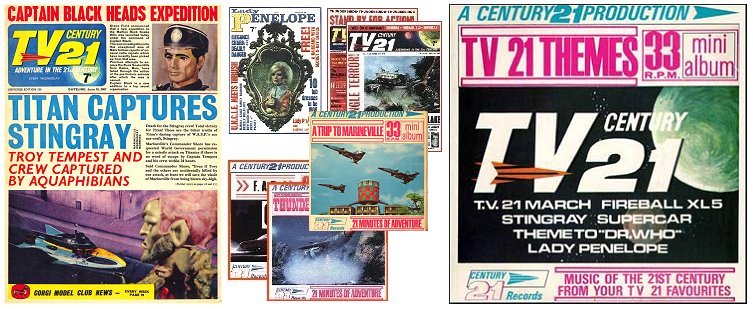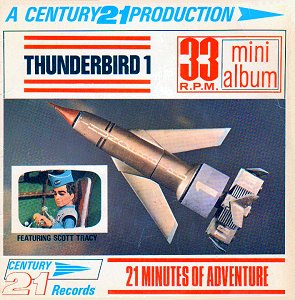 The year also saw the launch of the high quality, glossy TV Century 21 comic on Wednesday 23rd January. Published by City magazines and Century 21 publishing ( AP Films Merchandising ), it was conceived by Keith Shackleton and edited by Alan Fennell, followed a year later by a sister paper, 'Lady Penelope'. Combined circulation reached a peak of 1.3 million copies per week.

Also launched, in September, was Century 21 records - Clive Selwood and Gerry Anderson in partnership with PYE records. These 33 r.p.m. mini albums - "21 minutes of adventure" - featured original material, abridged versions of some of the shows and the wonderful music of Barry Gray. 36 were produced in all:
1 x Fireball XL5, 3 x Stingray, 5 x Captain Scarlet, 4 x Theme and Incidental music, 19 x Thunderbirds of which 3 were original new stories. 4 others contained licensed properties including Doctor Who and Topo Gigio



---
1966 - Thunderbirds Are Go
Century 21 Cinema / United Artists



Film - 94 minutes

Premiered at The London Pavilion, Leicester Square, Monday 12th December 1966
Executive Producer: Gerry Anderson Producer: Sylvia Anderson

On the big screen for the first time, International Rescue supervise the security arrangements surrounding the launch of the 'ZERO X' manned Mars mission. Problems arise when it runs into trouble on the return journey.


Uniquely features Cliff Richard and the Shadows in puppet form, performing at the 'Swinging Star' night club which Alan Tracy and Tintin visit. The puppets were stars at the premiere. This was the first attempt by a British TV company to get into the cinema film business. The film was actually called 'Thunderbirds Are Go' - no ! mark, which can clearly be seen on the E.P.!
This is the official trailer of the first Thunderbirds movie featuring the ZERO-X spaceship .



---
1966 - Thunderbirds ( series 2 )
AP FILMS / ITC





6 x 50 minute episodes First transmitted: October 2nd 1966
Producer: Reg Hill
Executive Producer: Gerry Anderson Associate Producer: John Read

This series - set in 2067 - brings us more action, adventure and bravery from the Tracy boys and their expensive toys. Even more spectacular special effects and strange mechanical devices. Thunderbird 3 was apparently based on the Russian Soyuz craft. You may also note a similarity in the shape of sections of the Tracy homestead and the design of Thunderbird 5, their orbiting monitor station.


In 1966 Gerry Anderson received television's highest award, The Silver Medal for Outstanding Artistic Achievement from the Royal Television Society.