1966 / 1967 Original Novels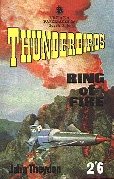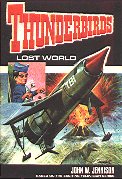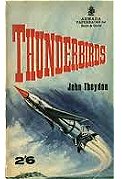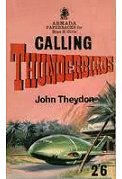 8 original novels authorised
4 by Armada in paperback and 4 by World Distributors in hardback

Paperback - all by John Theydon
'Thunderbirds' 'Calling Thunderbirds' 'Thunderbirds: Ring of Fire' 'Lady Penelope: The Albanian Affair'

Hardback - Two Authors
'Thunderbirds: Operation Asteroids' by John W.Jennison 'Thunderbirds: Lost World' by John W.Jennison
'Lady Penelope: Cool For Danger' by Kevin McGarry 'Lady Penelope: A Gallery Of Thieves' by Kevin McGarry



---
1967 - Captain Scarlet and The Mysterons
A Gerry Anderson Production



32 episodes made in two blocks - 12 in 1967 and 20 in 1968

First transmitted: 1st October 1967

Format by Gerry and Sylvia Anderson
Executive Producer: Gerry Anderson

Produced by Reg Hill

The Mars landing by Spectrum, Earth's security organisation, in 2068, ended in the destruction of the Mysteron city. Mistakenly believing themselves to be the victims of an unprovoked attack, the Mysterons swore revenge and during their retaliation attacks, two Spectrum agents, Captains Scarlet and Black, are killed and duplicated with the power to recreate themselves even after death. Captain Black becomes an agent for the Mysterons, while Captain Scarlet remains loyal to Spectrum and leads the fight to protect Earth and Skybase from the revenge of the Mysterons and their strange reconstructive powers. Despite the lyrics of the 'Spectrum' song, it was never the Mysterons' intention to conquer the Earth.





First use of properly proportioned puppets and the first series to use the Century 21 dart before the main title sequences. Notable for the eerie opening scenes, the main theme tune played by The Spectrum ( who never appeared as a group although they released a single entitled 'Samantha is mine' ) and the 7 note segue used during the 'strobe-shot' scene changes. Each episode had a two week shooting schedule but, for the first 12 episodes, pairs of episodes were shot simultaneously over a period of 12 weeks. The remaining 20 episodes were shot back-to-back with the film 'Thunderbird 6' over a five month period.
See also Bill Harry's 'Captain Scarlet' page



---
1967 - 1969 Candy and Andy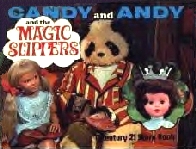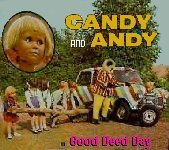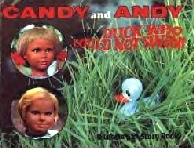 A series of photo stories about two children that live with Mr and Mrs Bearanda who are Pandas. The storyline was intended as a TV series but did not make the screen.
The characters were first seen in a magazine called 'Candy' published by City Magazines Ltd in co-operation with Century 21 publishing and edited by Alan Fennel.

Issue 1 appeared on 21st January 1967 and ran to issue 154 on 27th Dec 1969.
Annuals were produced from 1967 to 1969. Story titles included: Good Deed Day, Rufus To The Rescue, The Magic Slippers, Penny For The Guy and The Duck Who Could Not Swim.



---
1967 - Thunderbird 6
Century 21 Cinema / United Artists




Film - 90 mins Premiere: 29th July 1968 at the Odeon Cinema, London
Executive Producer: Gerry Anderson
Associate Producer: John Read Producer: Sylvia Anderson

A second crack at the big screen for International Rescue. This time, featuring Lady Penelope aboard the maiden voyage of Brains' new airship - 'Skyship One'. It doesn't take long for Lady P to discover that the crew are imposters, involved in a plot to bring about the downfall of International Rescue.


Thunderbird '6' is, in fact, the biplane in the film. The real life pilot had to appear in court on charges of dangerous flying after filming the sequence of flying under a motorway bridge on the then new, unopened, M40 motorway at Lane End near High Wycombe. The charges were dropped!



---
1968 - Doppelganger (Journey To The Far Side of the Sun)
Century 21 Cinema / Universal



Film - 101 minutes Premiere:October 8th 1969 at the Odeon Cinema, London
(June 1969 - U.S.A.)
Produced by Gerry and Sylvia Anderson Associate Producer: Ernest Holding
Following the discovery of a new planet on the opposite side of the sun, EUROSEC, the European Space Exploration Centre, send a 2-man probe to investigate.
The probe crashes, but it takes the crew a while to realise that it has crashed on a mirror-image duplicate of Earth.


Doppelganger was retitled 'Journey To The Far Side Of The Sun' for American and Australian audiences. British and European releases retained the Doppelganger title, which is the name under which the film is catalogued by the BFI and the BBFC. It won the 1969 Hollywood Blue Ribbon Award for best screenplay and was nominated for an academy award for best special effects. Strangely, only the American version has been seen on British TV. John Read left the company during production.


---
1968 - Joe 90
A Gerry Anderson Production



30 episodes First transmitted: 5th October 1968
Format by Gerry and Sylvia Anderson
Executive Producer: Reg Hill Producer: David Lane
Directed by: Peter Anderson : Leo Eaton : Alan Perry : Ken Turner : Desmond Saunders
Nine year old Joe McClaine can acquire the brain patterns and, therefore, the abilities of anyone, using B.I.G.R.A.T. ( Brain Impulse Galvanoscope Record And Transfer ), an invention of his adopted father. The ability is activated whenever he dons his special electronic glassesand is put to good and frequent use by W.I.N. - the World Intelligence Network.

Politics were important at the height of the 'Cold War' - even in children's series - so, despite the plot of Joe 90's first episode featuring British agent Joe stealing a Russian fighter plane to restore the balance of power,there is an explanation at the end of the episode that there is no conflict between Soviet Russia and the West. This was the first time a woman wasn't used to do the voice of a boy. A real kid - Len Jones - was used, making the character sound much more realistic.
Production started at MGM studios, Borehamwood but halted during the 17th episode when the studio closed due to a switch to shows containing more live action.. Shooting restarted six months later at Pinewood. While the puppet stages closed down and the puppetry staff were made redundant in January 1969, the Century 21 Studios at Stirling Road continued to operate until late in 1970, as all the stages were given over to the filming of special effects for UFO. Merchandising companies set up around the puppet series were wound up as was the Century 21 record company. The last issue of TV21 under Century 21 ownership came out on 6th Sept 1969.



---
1967 - 1969 - Project S.W.O.R.D
TV21 Comic story series and Annual





TV21 attempted to produce a 'harder' type of science fiction with a series of text stories which were also designed to help promote a range of futuristic toys that Century 21 Merchandising had acquired from a manufacturer in Hong Kong which they marketed under the name Project SWORD. Although not based on Anderson's creations, they did feature in two series of comic strips and text stories published by Century 21 Publications. The only actual Anderson craft included in the line was Zero-X, the spacecraft which first appeared in the film Thunderbirds are GO!. The ambitious format might have made for a dramatic science-fiction series, even with puppets, had it ever appeared on television. Keith Shackleton, the head of Century 21 Merchandising, apparently tried to persuade Gerry Anderson to do a series about Project SWORD, but the concept of Earth on the brink of destruction was considered to be too dark a subject for the Anderson production style. The text stories are credited to TV21 script editor Angus Allan and illustrations, one per story, were the work of Ron Embleton, Don Lawrence, Mike Noble, Jon Davis and Malcolm Stokes, who also did the majority of the 1968 annual.



---
1969 - Secret Service
A Gerry Anderson Production



13 episodes First transmitted: 21st September 1969
Format by Gerry and Sylvia Anderson Executive Producer: Reg Hill
Set in the present day, Father Stanley Unwin and his gardener Matthew Harding are secret agents for B.I.S.H.O.P., a department of British intelligence.
They use a device called a minimiser which can reduce any object in size - even people.

The Secret Service was not the first of Gerry Anderson's series to be set in the present day. Supercar was also set in the present day. The first season episode 'A Little Art' indicates that the date is around 1960 while the second season episode 'The Day That Time Stood Still' is specifically set in 1962. This was the first series to use puppetry mixed with live action sequences.The Secret Service presented a strange mixture of live action and puppets. Real human beings and objects were used in long shots while puppets and models were filmed in close-up. The bizarre filming techniques were not liked by ITC boss Lew Grade and production of The Secret Service cancelled after only 13 episodes. The experience gained in live action and miniature photography was, however, used more successfully in Anderson's next series.



---
1970 - U.F.O.
A Gerry Anderson production with ATV for ITC worldwide distribution



26 episodes
First transmitted: 18th September 1970
Producer: Reg Hill
Executive Producer: Gerry Anderson
Set in the, then, near future in 1980, S.H.A.D.O., Supreme Headquarters Alien Defence Organisation, was set up to protect Earth from attack by aliens trying to obtain human organs for transplant.
Conveniently based underneath the Harlington-Straker film studio, both run by Ed Straker, S.H.A.D.O. also operated a moonbase and the mobile underwater vehicle Skydiver.
This series was mostly live action with models used for the futuristic vehicles, except for the road cars, which were actual vehicles. UFO starred twelve actors from the film Doppelganger, seven making regular appearances, plus the dancer Peter Gordeno and Gabrielle Drake as Lt. Gay Ellis. When syndicated in America it topped the New York and L.A. ratings for 17 consecutive weeks. This was the last production for Century 21, Gerry Anderson setting up the Group Three company after this as the contract with Lord Lew Grade had expired.

See also Sixties City UFO page and Bill Harry's Sixties: Gabrielle Drake

---
1972 - The Protectors
A Gerry Anderson / Group Three production in association with ATV for ITC worldwide distribution



52 episodes x 25 mins First transmitted: 29th September 1972
Created by Lord Lew Grade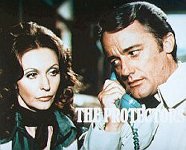 Harry Rule (Robert Vaughn), Paul Buchet (Tony Anholt) and the Contessa Caroline Ogilvie Di Contini (played by the late, wonderful actress Nyree Dawn Porter) are one team in the
Protector organisation that acts outside the law to bring criminals to justice.
This was the first Group Three production.
The powerful theme song, 'Avenues and Alleyways' by Mitch Murray and Peter Callender was a chart success for Tony Christie.
The memorable five note segue by Mitch Murray in the song was also used consistently throughout the incidental music which was composed by John Cameron.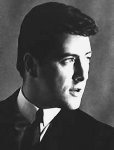 Mitch Murray
Songwriter who wrote and co-wrote many hits and Number Ones in the 60s and Seventies



---
1972 - The Investigator
Starkits



1 pilot episode x 25 mins Produced by Gerry Anderson
A heard, but unseen being from another galaxy enlists the help of two children, John and Julie, to help him in his crusade against crime and injustice on Earth.
In this case, to prevent the theft of a relic from a Maltese church.
Not transmitted. As in Secret Service, the miniaturisation of people once again plays a major part in the special effects and storyline.



---
1975 - Space 1999
A Gerry Anderson / Group Three production for ITC worldwide distribution



48 x 50 min episodes in two seasons of 24 First transmitted: Thursday 4th September 1975
Created by Gerry and Sylvia Anderson Executive Producer: Gerry Anderson
Producer: season 1: Sylvia Anderson Producer: season 2: Fred Freiberger
Set in the 1990's and the moon has been blasted out of orbit by the accidental explosion of a radioactive waste dump, along with moonbase Alpha and its 300 inhabitants commanded by John Koenig.
This is the story of its travels and the Alphans' search for a new home.
Martin Landau and Barbara Bain star in this tale of human survival. Barry Morse left after the first season and was replaced by a second female lead - Maya, a metamorph from the planet Psychon - played by Catherine Schell. Work had already started on a second series of U.F.O. but as it was not taken up by America, production quickly changed to Space 1999. The company moved to the old Hammer site at Bray studios for the special effects work. To make the space vehicles fly more smoothly a technique was evolved where the cameras were moved instead of the model, the background being superimposed afterwards.




See the superb quality EAGLE II pictures at space1999eagle.com
---
1975 - The Day After Tomorrow - Into Infinity
A Gerry Anderson / Group Three production for the NBC network


1 episode x 52 mins
First transmission U.S.A. 9th December 1975 / U.K. 11th December 1976
Produced by Gerry Anderson Prodn. Supervisor: F.Sherwin Green
Directed by Charles Cricton
The lightship Altares which can travel at near lightspeed using a photon drive carries two families, the Masters and the Bowens, to Alpha Centauri on an exploration mission.
After being struck by a meteor shower, the ship passes through a black hole into a new universe.


Starring Brian Blessed, Joanna Dunham and Nick Tate, and narrated by Ed Bishop. This production was made in 10 days during July 1975 at Pinewood and Bray studios using the cast and crew of Space 1999 between the first and second series. The special effects took a further 6 weeks. Having the appearance of a pilot episode it is, in fact, one of a series of seven educational programmes commissioned by NBC, each dealing with a different subject. This one was meant to encompass Einstein's theory of relativity. Never made into a series, it has been seen only once on U.K. television.



---
c.1976 - Intergalactic Rescue: RescueFour
Conceived by Gerry Anderson and Fred Freiberger
Proposed: 13 x 30 minute episodes

This was a proposed live-action version of Thunderbirds originally titled 'RESCUE 4'. It was centred around an all-purpose rescue vehicle patrolling a distant sector of space.
Presented to NBC as a 13 x 30 minute series, the option of a pilot was not taken up.



---
c.1977 - Starcruiser
Created by Gerry Anderson and Fred Freiberger
Planned: 13 x 30 minute episodes - not taken up - no pilot
Although never making it to the screen, the concept eventually materialised in the form
of a comic strip in the childrens TV magazine 'Look-In'



---
c.1977 - Ericsson Promo
A promotional film for the Swedish telecomms giant Ericsson was scripted by Gerry Anderson



---
1977 - Alien Attack

A Gerry Anderson-produced cinema commercial, made to promote Jif Dessert Toppings, used Supermarionation technology
and was scheduled to run before the main showing of the film Star Wars