c.1978 - Operation Shockwave
Feature film - scripted by Gerry Anderson
A spy thriller which was never completed due to withdrawal of financial backing as shooting started




---
c.1979 - Five Star Five
Feature film scripted by Gerry Anderson and Tony Barwick
Producers: Gerry Anderson / Sidney Rose Director: John Guillermin
A science fiction film which went into pre-production but was never shot due to lack of finance




---
1979 to 1982 - Super Space Theatre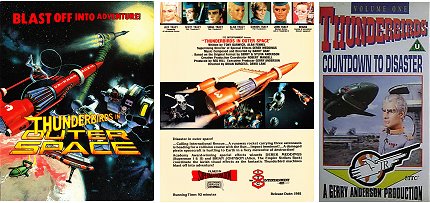 8 x edited series episode combination films

ITC produced a number of features under this general heading made up from different TV episodes with similar storylines.
They were transmitted by U.S. syndicated stations and cable TV companies, eventually being released on video in the mid-eighties by Channel 5 Video.
Three Thunderbird features of approximately 93 minutes were made:

Thunderbirds To The Rescue ( Trapped In The Sky / Operation Crash Dive )
Thunderbirds In Outer Space ( Sun Probe / Ricochet ) Countdown To Disaster ( Terror In New York City / Atlantic Inferno )





Similarly, three Space 1999 features were made under the same heading:

Alien Attack (Breakaway / War Games) 1979 - 105 minutes Journey Through the Black Sun (Collision Course / Black Sun) 1982 - 89 minutes
Cosmic Princess (The Metamorph / Space Warp)

Previous to this 'series', two other Space 1999 compilation movies had been produced:

Spazio: 1999 (made for Italian release from Breakaway / Ring Around the Moon / Another Time, Another Place) 1976 - 88 minutes
Destination Moonbase Alpha (The Bringers of Wonder, parts 1 and 2) 1978 - 96 minutes





---
1983 - Terrahawks
Produced by Anderson Burr pictures in association with London Weekend Television



39 x 25 min episodes in 2 series of 26 and 13
First transmitted: Sunday 9th October 1983
Created and produced by Gerry Anderson
Scripted by Gerry Anderson and Tony Barwick Executive Producer: Christopher Burr
The year is 2020 and the NASA Martian Expedition base has been destroyed by alien craft which then head towards Earth. Earth protectors - The Terrahawks - led by Dr. Tiger Ninestein and Sergeant Major Zero assisted by his zeroid robots pit their wits against Zelda, Imperial Queen of the planet Guk, a witch-like android who can control the nature of matter.
The series also featured another futuristic Rolls-Royce. Called H.U.D.S.O.N., it was chameleon in character.

Terrahawks at SFXB
Produced by the newly-formed Anderson Burr pictures at Bray studios, this was a return to puppetry, but Terrahawks was not filmed in Supermarionation as his other puppet shows were. This time he used a new technique that was dubbed 'Supermacromation.' Always trying to improve his puppets' look, Anderson decided that this time they would do away with the strings all together and used hand puppets with rubber faces.




---
c.1984 T-Force

A larger, re-vamped version of Thunderbirds which was being planned by Gerry Anderson in association with Steven Begg. It included a change of base with larger,
more versatile rescue vehicles and Lady Penelope was to be given a pink Porsche instead of the Rolls Royce. Finance for the project proved to be unobtainable.



---
1986 - Space Police (Star Laws)
Anderson Burr Pictures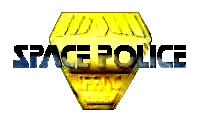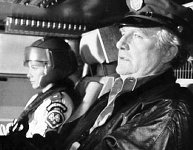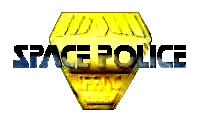 1 x 52 minute pilot episode scripted by Tony Barwick
Produced by Gerry Anderson Associate Producer: Bob Bell
After 15 years as a New York policeman, Lieutenant Chuck Brogan is appointed to command Space Police precinct 44 East, based aboard a space station orbiting the planet ZarXL5. The crew comprised himself, policewoman Cathy Costello (Catherine Chevalier) and a trio of cat-like aliens known as Tom, Dick and Harry, working for an intergalactic police corps fighting organised crime.
Part live action, part puppetry, this was clearly a forerunner of Space Precinct. In order to be able to travel to the surface of the planet, Cathy had to transform her face into 'Siliconide' - which made her easier to 'puppetise'. The series was never made due to the untimely death of Jim Henson, who had shown an interest in it, and the subsequent lack of backing as the company changed ownership.




---
1987 - Dick Spanner
An Anderson Burr production in association with Channel 4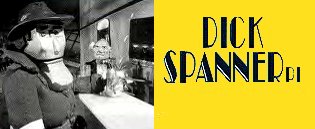 22 x 6 minute episodes First transmitted: 3rd May 1987
Directed by Steven Begg and Terry Adlam Creative Supervision by Gerry Anderson

Starring Shane Rimmer as Dick Spanner


A robot-like wisecracking private detective conducts his investigations in a surreal parallel universe where anything, literally, can and does frequently happen in the most bizarre ways.
Two stories were presented in 11 segments each:
The Case Of The Human Cannon Ball and The Case Of The Maltese Parrot
This was Gerry Anderson's first completely stop-motion animation production which was later re-edited into four 25 minute shows. The Anderson-Burr partnership had, in fact, been dissolved before the production of this show. It was screened on Sunday lunchtimes as part of a programme called Network 7, aimed at teenage viewers and was eventually sold to BSkyB.




---
1987 - Royal Bank of Scotland



Producing for The Moving Picture Company on behalf of the Royal Bank of Scotland, Gerry Anderson made this strange advert featuring matchstick-like people. This won the advertising industry's Silver Arrow award.



---
1989 - Space Police (Star Laws)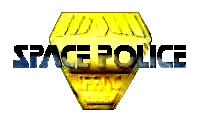 An edited, 25 minute version of the 1986 52 minute pilot episode.



---
1990 - Parker's Day Off (Swinton Insurance)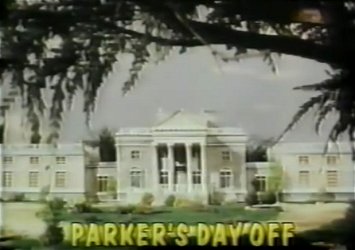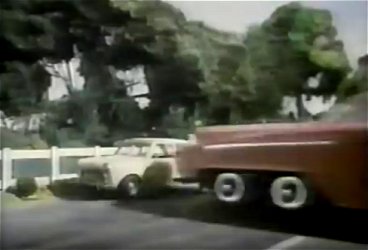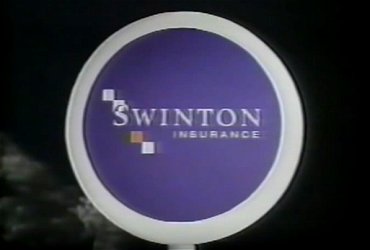 Produced and Directed by Gerry Anderson

This was made as an advert for Swinton Insurance. It starred the original puppet model of Parker ( piloting Thunderbird 2! ) and featured some innovative driving by Lady Penelope in FAB1, both of which were rebuilt specially for the story. YOU TUBE



---
1991 - 'Calling Elvis' - Dire Straits
Directed by Steve Barron / Gerry Anderson
A four minute music video starring Dire Straits both live and in puppet form a la Thunderbirds, promoting their single 'Calling Elvis'.
Gerry Anderson directed the 'Thunderbirds' segment which took twelve weeks to make.
Original Thunderbirds sequences were accompanied by the new footage and live action shots of the band,
and featured the M.C. Parker single 'Thunderbirds Are Go' on MTV in a remix of the original series theme tune.




---
1991 - F.A.B. Featuring M.C. Parker - Thunderbirds Are Go!

Originally a single-sided 7" 33rpm flexi-disc released on Telstar – K01 by Euro House. The theme reached number 5 in the British music charts. To accompany this, a music video compilation similarly titled Power Themes 90 was released, and "Thunderbirds Are Go! (The Pressure Mix)" was listed, featuring footage from episodes of various Gerry Anderson series episodes interspersed with newly-filmed shots of the original Parker puppet dressed in "era" clothing and acting as a DJ.



---
1993 - Thunderbirds Kit Kat Advert

A Thunderbirds-themed advertisement for the Kit Kat chocolate bar features the original 5–4–3–2–1 countdown (re-recorded by a new voice actor) and all the ships
taking off, except Thunderbird 1. Scott, who pilots the ship, is seen relaxing and "having a break". Meanwhile, a frantic Jeff Tracy tries to order Scott to launch the ship.



---
1993 - G.F.I. (Warming Warning)
Gosh! / Inimitable



1 pilot episode x 25 minutes Executive Producers: Gerry Anderson and Adam J.Shaw
Produced by Bob McKie Directed by Phil Littler
Another look at the T-Force idea resulted in its redevelopment as a cell-animated series originally called G-Force but ending up as G.F.I. ( Gee Force Intergalactic ). As a rapid response unit for the United Planets, G Force Intergalactic combats major crime and large scale disasters, operating from Star City, a secret base hidden beneath the surface of an asteroid orbiting the Myson system.
13 episodes were drafted, some into full scripts, but only one episode was made ( Warming Warning ), partly in Moscow.
The series was cancelled due to the Russian animation being of comparatively poor quality and reshoot costs proved to be prohibitive.



---
1994 - Space Precinct
Gerry Anderson productions / Mentorn Films / Grove Television (GTV)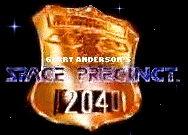 24 x 45 minute episodes First transmitted: 27th May 1995
Produced by Gerry Anderson Executive Producer: Tom Gutteridge
Line Producer: Tom Sachs
Digital effects by The Magic Camera Company
The year is 2040. Human, Creon and Tarn police officers form the staff of precinct 88, keeping law and order in Demeter City on the planet Altor. Lt.Patrick Brogan (Ted Shackleford) and
Officer Jackson Haldane (Rob Youngblood) always seem to find the most trouble.
This was the most expensive sci-fi series ever produced in the U.K. Although an obvious evolution of Space Police, the name had to be changed due to a copyright conflict with a Lego toy. Now an all-live action show, all the scenes had to be re-shot, the live scenes being done at Pinewood and digital effects at Shepperton using special machines called Lightworks which allowed much wider editing/cutting possibilities. The financer, Grove Television, only just managed to fulfil its commitment before going into liquidation. Originally aimed at adults, it was eventually screened on BBC2 at 6 p.m.



---
1994 - Thunderbirds U.S.A.

13 x 23 minute edited episodes

ITC announced a live action Thunderbirds movie to be in development, planned for release around Christmas 1995. To pave the way for this, 13 of the original TV episodes were cut down to 23 minutes running time ( 30 minutes including adverts ) and broadcast on the American Fox Kids network as 'Thunderbirds U.S.A.' with new voice-overs and 'up to date' dialogue.
The movie failed to materialise as ITC were sold to Polygram in 1995.



---
1996 - Lavender Castle
CPI / Gerry Anderson Productions / Cosgrove Hall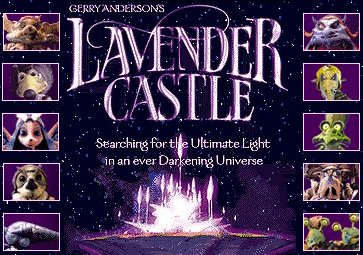 26 x 10 minute episodes First transmitted: 7th January 1999
Produced by Gerry Anderson Line Producer: Chris Bowden
Executive producers: Craig Hemmings and Brian Cosgrove
The adventures of Captain Thrice and the crew of the starship Paradox while on their quest to find the legendary Lavender Castle - a floating city deep in space supposed to be the greatest source of power in the universe. They must find it before the evil Doctor Agon who intends to destroy it!
Made at Cosgrove Hall using computer digital animation. Stories written by Pauline Fisk and music by rock legend Rick Wakeman.

Gerry Anderson's official biography, "Gerry Anderson: The Authorised Biography" written by Simon Archer and Stan Nicholls, was published by Legend Books (a division of Random House) in 1996, and a paperback edition was published the following year.

"What Made Thunderbirds Go!", a new updated and expanded edition of the biography,
written by Marcus Hearn and Simon Archer, was published by BBC Books in 2002.



---
2000 - Thunderbirds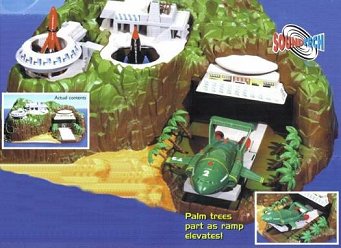 Thunderbirds returned to BBC2 for the first time in eight years starting 5th September 2000. It occupied an early evening weekend slot and featured the whole 32 episode series which had been digitally re-mastered by Carlton International with full stereo sound and a lot less visible strings. It was, of course, accompanied by a huge new range of merchandise for Christmas 2000, consisting of over 100 different items including an upgraded version of the highly successful 'Tracy Island' toy with new sound technology features.


---
2001 - Recognition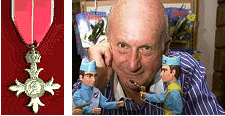 In June 2001 Gerry Anderson was awarded the MBE
(Member of the Order of the British Empire) for services to animation.
---
2001 - Playstation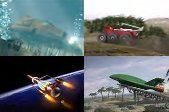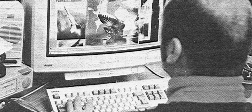 A game release was planned for Playstation 2 in 2001 in which Gerry Anderson and other 'real' people would feature as part of the International Rescue team alongside the regular puppet characters. He has recently been developing a live-action SF series, Eternity, and an anime series, FireStorm, with a leading Japanese animation production company

---
2003/05 - New Captain Scarlet
Anderson Entertainment/Gerry Anderson Productions/The Indestructible Production Company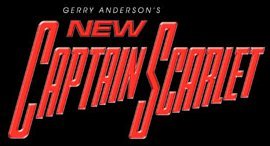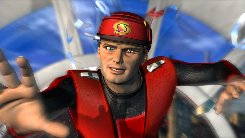 26 episodes of 25 minutes

Executive Producer: Toby Ricketts Producer: Gerry Anderson

Line Producer: Mark Sherwood
Associate Producer: Gary Donohoe CGI Producer: Ron Thornton

Supervising Director: David Lane
Directors: David Lane, Mark Woollard & Dominic Lavery

Writers: Phil Ford, John Brown & Brian Finch Music by Crispin Merrell

Editor: Andy Walter Production Designer: Mark Harris
Conceptual Artist: Dominic Lavery

Indestructible Spectrum agent Captain Scarlet is Earth's best defence in a war of nerves against the Mysterons from Mars and their instrument of destruction, former Spectrum agent Captain Black. The first two episodes are a "two-parter" where it is explained how Captain Scarlet becomes indestructible and how Captain Black is taken over by the Mysterons after a mission to Mars. Women are now positioned in their rightful, equal place in society doing jobs that men used to do so Lieutenant Green is now a woman, working with Colonel White, in control of all the operational activities on Spectrum 'Skybase'. Captain Ochre is now a woman too, although most other favourite characters remain the same.

Created in Hypermarionation - a sophisticated form of CGI animation - currently in production at Pinewood Studios and due for completion in 2005 - employs the absolute latest computer graphics imaging (CGI) animation techniques. At the conclusion of production on the first 26 episodes, it will be the most expensive family entertainment series ever created, with a budget of over $30 million.

Gerry Anderson Productions (GAP) Plc is the production company set up in the UK by Margetts Fund Management in 2003 to raise funds for and to produce 'New Captain Scarlet'. It is, in itself, the single most successful fund-raising of its type for film or television production in UK history.


---
2003 - Regor The Rescue Dog
Childrens Book series, published by Reynolds & Hearn
Published in December 2003 ( possibly originally created c.1996)
'Regor To The Rescue' 'Buried Alive'
Stories about a dog with sophisticated rescue equipment.
2005 - CGI Thunderbirds
This is a trailer for a proposed CGI Thunderbirds series that was meant to have aired in 2005 but never saw the light of day.

Anderson Entertainment had two other shows in pre-production: ' Regor the Rescue Dog' and 'A Christmas Miracle' and was exploring the possibility of exploiting
the back catalogue. Granada Ventures are the licensees for all of Gerry Anderson's original shows. Another live-action show - 'Eternity' - was also under discussion
2008 - The Making of the Thunderbirds 'Specsavers' Advert
Machine Shop worked on the Specsavers 'Free reactions' commercial with Tandem Films based upon the Thunderbirds TV series in early 2008. In preparation for the shoot, Machine Shop drew on already extensive knowledge of building and operating Thunderbirds puppets to create new marionettes as well as their clothes and accessories.

Thunderbirds 2009

The Trailer for the 10 minute fan film Thunderbirds 2009 based on the TV series Thunderbirds by Gerry Anderson. The film continues the adventures of the International Rescue team with little or no budget. Directed by Chris Thompson featuring Guy Taylor, Philippa Ramsay Baggs, Rachele Crawford, Andrew Smith and Andrew Clements. Costumes by Rachel Smith Created by the Belfast-based scifi film company SKPB the film is designed to give an idea of what a live action series of Thunderbirds would be like.


2011 - Royal Mail Stamps : FAB: The Genius of Gerry Anderson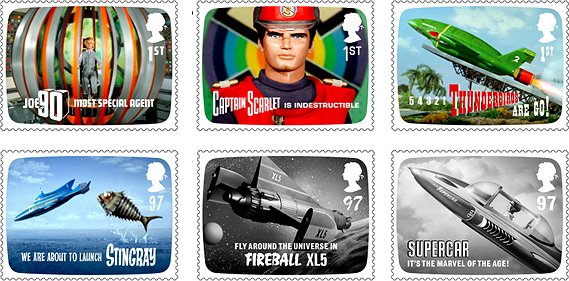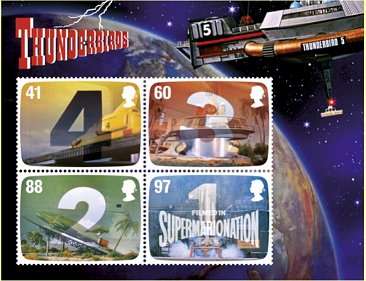 The stamp series comprised of images from six of his iconic children's TV series dating back to Supercar, 'the marvel of the age', which first appeared on ATV in January 1961. Thunderbirds, Captain Scarlet and Joe 90 are all first class while Supercar, Fireball XL5 and Stingray feature on the 97p stamps. In addition, a miniature sheet of motion stamps has also been issued, created through a micro-lenticular printing process, which recreates the famous 5,4,3,2,1, countdown from the opening scenes of the Thunderbirds series.
2012 - Gerry Anderson - R.I.P.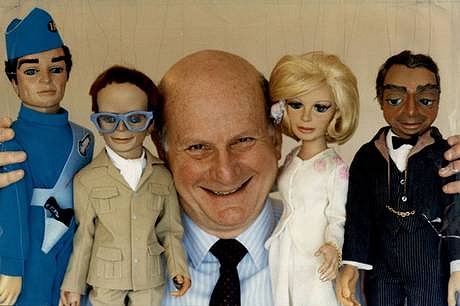 Gerry Anderson spoke movingly about his battle with dementia. He first suspected he had a problem as he drove home to Henley from Pinewood Studios in early 2010.
"I got lost and the journey took me at least six hours rather than one," he said. "I think my son Jamie and wife Mary had already noticed I was acting differently.
It was a few months before I was diagnosed and even longer before I was prescribed any treatment. I was sad when I was diagnosed but I think it was a relief for my family,
who were just pleased to know what was happening to me. The treatment helps, but I still rely on Jamie and Mary for a lot of things. I just wish I'd been given earlier diagnosis so I
could have started this treatment sooner. I try to stay positive and enjoy every day. My dementia hasn't just affected me — it's affected my friends and family, too."

Jeremy Hughes, chief executive of the Alzheimer's Society has said that Gerry Anderson has been an outstanding supporter of the Alzheimer's Society and campaigner on behalf of people with dementia.
He was determined, despite his own recent diagnosis, to spend the last year of his life speaking out for others living with dementia to ensure their voices were heard and their lives improved.
With the support of his family, Gerry tirelessly attended events around the country to raise awareness of the condition and to raise funds for a cure.

Gerry Anderson - b. 14th April 1929 d. 26th December 2012