Dr. No was the first James Bond film, based on the books by Ian Fleming, and was adapted for cinema by Richard Maibaum, Berkely Mather and Johanna Harwood from what was the sixth novel in the Bond series. Harry Saltzman had acquired film rights for the books which Cubby Broccoli unsuccessfully tried to buy and they ended up forming two companies, Danjaq to hold the film rights and EON productions to actually produce the films. Although it was intended to use Thunderball for the first film, an ongoing legal dispute between Fleming and Kevin McClory over copyright prevented this and Dr. No was chosen instead. References are made in the film to elements of storylines from the five earlier novels.

Directed by Terence Young (Guy Green, Guy Hamilton, Val Guest and Ken Hughes having turned it down), the film was made on a budget of $1million which was eventually put up by United Artists as most Hollywood film companies considered the story to be 'too British' and to contain too much sexual content. It was Young who established its 'tongue in cheek' aspect as a means of off-setting the sex and violence in the story. A further $100k was put up by the British 'branch' of UA in order to be able to complete the climactic scenes involving the destruction of Dr. No's island base.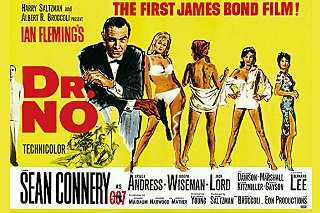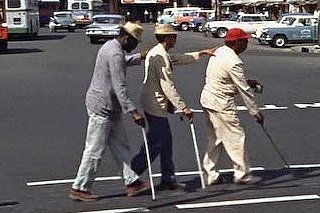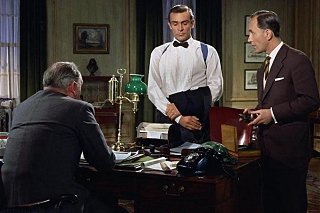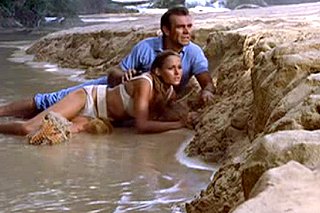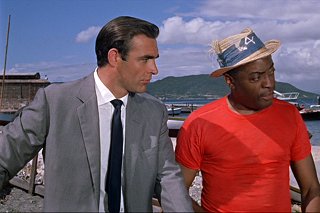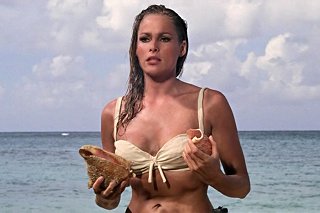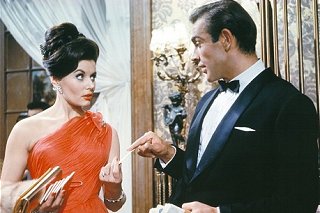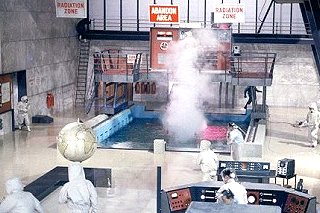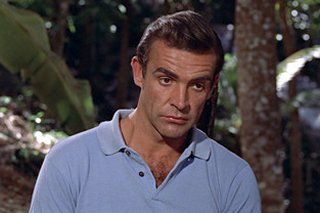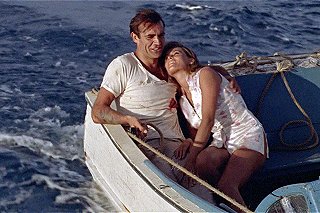 A local British Intelligence in Jamaica disappears, having been killed and his body removed by a trio of assassins known as the 'three blind mice'. Agent 007, the 'licensed to kill' James Bond, is sent by 'M', his department head, to investigate whether the John Strangways disappearance is related to a series of Cape Canaveral rocket launch failures caused by radio jamming on which he had been liaising with the CIA. On arrival at Kingston Bond attracts the attention of a female photographer who tries to take a picture of him and he is followed from the airport by two men. The chauffeur who collects Bond from the airport has been replaced by an enemy agent and a fight ensues when Bond discovers this, but the man commits suicide with a cyanide cigarette before 007 can get any information out of him.

On examining the contents of Strangways' house Bond comes across a photograph and sets out to find the boatman, named Quarrel, who appears in the picture with Strangways but finds him to be somewhat lacking in co-operation when he is located. 007 also recognises him as the driver of a car that tailed him when he left the airport and follows him, but gets caught and is in danger of getting severely beaten by Quarrel and one of his men when another man intervenes, who turns out to be CIA agent Felix Leiter. Leiter explains to the two men that they are actually on the same side, and once a truce has been established Leiter goes on to explain that the CIA have traced the source of the radio jamming signal to the general area of Jamaica but have been unable to pinpoint its exact source. On being asked about the photograph, Quarrel reveals that he has been acting as a guide to Strangways, taking him around the various local islands to collect samples for his mineral collection. He also tells Bond about the island of Crab Key, its reclusive owner, Dr.No and how the island which contains a bauxite mine is heavily protected by both armed men and a radar installation.

The comment about mineral samples reminds Bond of a receipt for rock samples that he also found at Strangways' house and was signed by a Professor Dent. On being questioned by 007 Dent tells him that he had assayed some rocks for Strangways but had found nothing special about them. When Bond leaves, Dent immediately takes a trip to Crab Key to advise Dr.No of the interest being shown. No is angry that the British agent has not been eliminated and sends Dent back with instructions to kill him. The introduction of a poisonous spider into Bond's bedroom fails, so Dent tries to complete the job by shooting him but Bond is ahead of the game and has set a trap resulting in Dent's capture, interrogation and, ultimately death when he tries to terminate the British agent in an attempt to escape. The place in Quarrel's boat where Strangways' mineral samples had been stored display signs of radioactivity and Bond persuades a reluctant, superstitious Quarrel to help him to investigate Crab Key where the samples had come from.

While on the beach at No's island he comes across Honey Ryder who claims that she often visits the island to collect shells to sell. She is quite knowledgeable about the island and, although initially suspicious of Bond, agrees to help him to have a look around under the cover of night, even though she warns him about a legendary fire-breathing dragon that is supposed to inhabit the island. The dragon puts in an appearance but turns out to be a disguised flame-throwing armoured vehicle which incinerates the unfortunate Quarrel before armed guards capture Honey and James.

On arriving in the main building complex the two are subjected to decontamination procedures before being drugged and imprisoned. They awake to an invitation to dine with Dr. No who conversationally advises that he is a member of SPECTRE (Special Executive for Counter-Intelligence, Terrorism, Revenge, and Extortion) and is carrying out disruption to the American Mercury space launches from Cape Canaveral with an atomic-powered radio transmitter located on his island. Bond attempts to overcome his captors but is beaten by some guards who place him in a locked cell. However, the resourceful agent escapes through a ventilating shaft and continues his investigation of the island site disguised as one of No's workers.

He eventually finds his way to the installation control centre where Dr.No is using the radio transmitter to carrying out his latest terrorist attack. Bond manages to get into a position where he is able to send the nuclear reactor powering the radio transmitter into overload, just as the American spacecraft starts its launch procedure. A furious Dr.No attacks Bond and some serious hand-to-hand fighting takes place before the evil Doctor is forced to overbalance and falls into the reactor coolant pool and boils to death. The reactor is still in overload mode and Bond searches the facility for Honey Ryder, after which they use a boat to make their escape from the island just before the entire place explodes.

Many of the 'features associated with the Bond series were established in the first film, including the 'gun barrel' opening sequence and the highly-stylised, almost pop-art title sequences, both of which were created by Maurice Binder while production designer Ken Adam set the standards for the flamboyant visual style. It is in 'Dr. No' that the phrases "Bond ... James Bond" and "vodka martini - shaken, not stirred" are first used, becoming possibly two of the most popular cinematic quotations of all time.
Dr. No had its world premiere at the London Pavilion on 5th October 1962 and went on general UK release three days later.




click on above for larger images


also see Bill Harry's Sixties pages on Sean Connery as 007