Carnaby Street view 1 Not known 2 Not known 3 John Stephen Girls Shop

4 Ravel (Raoul Chausseurs of Oxford Street) previously Warburton & Son c.1956

5 John Stephen HIS c.1957 from Beak Street. Previously Warburton & Son c.1956

6 Edwin Crook & Co. c.1957 5 and 6 were later The Village Store boutique (John Stephen) c.1967

7 Early occupant not known: 7 & 9 were later Henry Moss c.1966 then Pussy Galore (Henry Moss) 1969. The shop became Sweet Fanny Adams in the early 70s

8 John Stephen Custom Tailoring boutique (John Stephen)

9 Topper shoes. One of two Topper outlets on Carnaby Street. Open Monday - Saturday 9am - 6pm with late night shopping until 7pm on Thursday and Friday, No.9 had a 'beautifully cool interior in weird purply shades' and catered for girls.

10 Merc (Javid Alavi) 1967 (previously a small shop in Ganton Street)

10 - 19 At the start of the Sixties this entire block (listed as No.19) was the site of the Electricity building (originally the Saint James' and Pall Mall Electric Lighting Company) extending to Marshall Street. Read More Disused building entrance No.19 in 1967 From 1827 - 1892 there was a National School on part of this site. Number 13 was previously The Ship public house c.1784-1884) Street View View2

20 - 21 Ravel shoes (Raoul Chausseurs of Oxford Street)

22 Cranks Salad Table Opened 21st June 1961. It was founded and owned by David and Kay Canter and Daphne Swann, and its flagship restaurant was later (1967-2001) at Marshall Street. London's first truly vegetarian restaurant. Later Kleptomania boutique c.1967 (Tommy Roberts and Charlie Simpson)

23 Donis (Andrew Spyropoulos) c.1957. 23 also housed a company called Kepkold.

24 Take 6 (Sidney Brent, who owned 14 branches in London). Later Cranks Shop (provisions store) 1969.
This was originally the site of The Castle public house c.1824-1895

25 Mates boutique (Irvine Sellar) An establishment called Carnaby Signs occupied the 1st floor. By 1969 Irvine Sellar owned 24 boutiques

25A Yvon boutique c.1968 Le Papillon c.1968?

26 Ranjit Travels travel agents later Carnaby Girl (Irvine Sellars) c.1968

27 Irvine Sellars boutique - originally a greengrocers

28 Tom Cat boutique (Irvine Sellars) later Fancy That and Carnaby Capers souvenir shop c.1971.

28A Lady Jane's Birdcage boutique (Harry Fox) previously a Tobacco Kiosk appended to number 28

29 Lady Jane boutique (Harry Fox and Henry Moss) April 1966 - the first boutique actually in the street to specialise in ladies' fashion. Models were instructed to dress and undress in the windows for the first three days of trading. Previously the site of a local dairy.

30 Como Snacks cafe (George Grech) later Sir Harry boutique (Harry Fox) c.1972

31 Oscar's Coffee Shop (Oscar Bucchioni) c.1955 later became Universal Commissions Ltd betting shop. (2nd picture) c.1960 (Emile Gatta and Oscar Bucchioni) later sold to Aristos (Anella)
(Aristos and Achilleas Constantinou) c.1971

32 Rene florists (date?) C.G.Honeywill's leather manufacturers c.1968

33 - 34 John Stephen department store and Scottish Highland Shop and Scotch & Soda Bar (date?).
It was transformed from a fitting house during shopping hours to a drinking lounge in the evening. Previously Tollas a jewellery and fancy goods warehouse.

35 Gear boutique (Tom Salter) 1964 2nd picture previously a restaurant c.1944

36 - 37 Morrell's hardware and electrical store. Between 37 and 38, prior to reconstruction, was an entrance to 'Pugh's Place', occupied by G.Stannard & Sons, box and packing case makers c.1944.

38 - 38A Male W.1. boutique (John Stephen) c.1965 Building reconstruction

39 Paul's Male Boutique (Nathan Spiegal)

40 Detroit Dry Cleanery ('Famous Spencer dry cleaning process')

41 His Clothes / Her Clothes / His'n'Hers boutiques (John Stephen) 41 Carnaby

42 Carnaby Cafe Locally known as 'Fred's' - later Lady Jane Again! (for her) c.1969 and
The Fox's Lair (for him) boutiques (Harry Fox)

43 Lord John boutique (Warren & David Gold) February 13th 1964 - The iconic murals were painted in1967. Previously The Coach and Horses public house c.1787 - 1965.

44 Ravel shoes (Raoul Chausseurs of Oxford Street). Previously The Bull's Head p.h. c.1784-1910

45 Topper / Shoes by Topper shoe shop (Monty Stewart and Steve Topper). One of two outlets on Carnaby Street. It kept the same opening hours as No.9 but catered for men only, with the range costing from three pounds to ten guineas.
The first floor was used by Aristos (Achilleas and Aristos Constantinou) c.1965

46 Inderwick's Street View The pipe & tobacco specialist was founded in 1797 by John Inderwick. The original shop located on Wardour Street was one of the earliest tobacconists in London. Although appearing slightly out of place during the Carnaby fashion period, they resisted several offers on their lease. Throughout this period their business was enhanced rather than threatened as curious shoppers ventured in to buy their specialist tobacco blends, cigarettes and the long clay Churchwardens, Corncobs and Meerschaum pipes which they had been selling for 170 years. Above Inderwicks was the very first Aristos boutique, occupying two rooms on the first floor, a small shop area in the front and a workroom in the back where Constantinou Aristos ran up garments for girls. The son of a master tailor, he had graduated from the London College of Fashion in 1965 and with the profits from this boutique opened up a second shop named Blooshp at 45 Newburgh Street where he was joined by his younger brother Achillea. A third shop was opened in Carnaby Street c.1971 and another in Marlborough Court.

46 - 46A Domino Male and Trecamp boutiques (John Stephen) c.1965 later Pop boutique (date?)

47 Paul's Male Boutique (Nathan and Susie Speagal) c.1959. Opened a 2nd Carnaby branch late 60s

47A John Stephen Custom Built Clothes For Men boutique c.1964 The Mod Male boutique
(John Stephen). Later Adam W.1. boutique (Stanley Adams) and Sweet Fanny Adams swimwear
c.1968 (Henry Moss)

48 Otis Elevator Company Ltd (c.1966)

49 to 51 was collectively Stanley House with the following ground floor occupants:

49 Carna B Hive boutique and entrance to a basement club: The Roaring Twenties club (Count Suckle)

50 - 51 Man Shop boutique (John Stephen) c.1959 later JS Trouser Bar boutique (John Stephen)

52 Kids In Gear children's boutique (Tom Salter) (date?) Carnaby Street boutique (date?). Previously The Welsh Harp public house c.1838-1938)

52 - 55 John Stephen Teen Store boutique c.1965, His'n'Her Clothes and Their Records (John Stephen). The upper floors of Stephen House housed the John Stephen offices, the Henry Moss shirt design offices and the Don Arden music management offices and the basement was a coffee shop.

53 - 54 were previously Joseph Stegmaier's Hungarian Cafe and Restaurant

56 Not known 57 The Drug Store boutique (John Stephen)





The 'Y' shape 'extension' of Great Marlborough Street was originally part of Carnaby Street leading to some confusion in numbering / address of some premises at certain times.

Liberty & Co department store - main building built in 1924. It was constructed from the timbers of two ships: HMS Impregnable and HMS Hindustan. The frontage on Great Marlborough Street is the same length as the Hindustan.

26 The Grapes public house c.1830 - it was closed and integrated with the Liberty store in 1968

27 - 28 Lord John Carnaby Hall boutique (Warren and David Gold) c.1964

29 Shakespeare's Head public house first licensed c1743 rebuilt 1927. Renamed Shakespeare's Head by 1934 (after original landlord John Shakespeare?). The ground floor facing Carnaby Street housed
Chubbie's Sandwich Bar c.1973

30 - 31 James Galt (Galt's Toys) toy shop (James Galt) c.1966 formerly Nos. 29 and 28 Great Marlborough Street, previously Nos. 28 and 29 Carnaby Street. "30 and 31 Great Marlborough Street appear to be early eighteenth-century houses, four storeys high and each four windows wide, No. 31 having a return front of four windows (one blind) to Foubert's Place. A modern shop fills the ground floor of both houses and the rest of the exterior has been stuccoed, with joints imitating stonework, the windows being dressed with moulded architraves. The interiors have been completely modernised".

32 All Woollens (?) 34 Village Gate boutique (Irvine Sellars) 35 Cafe (full name?)

35 / 36 Mister Carnaby boutique

37 - 38 Public House formerly Fanfare & Firkin, The Dog and Trumpet and Marlboro Head since c.1739. Numbered 38 in 1882. Rebuilt 1886 when it was incorporated with No.37





Previously Tyler Street, a small section of Fouberts Place originally extended westwards 2nd image 1967. The individual shops located here disappeared during the rebuilding of Regent Street during the 1920's, including a branch of Hamley's.

Unknown number: Vince Man's Shop boutique c.1961 (Bill Green). Also see street images above which
show signs for other businesses - location number unclear. These include: Argus Bureau staff agency,
.... Morris milliners, City Tote, Barnes tailors and Insta....

4 William Earl's Bakery and Tea Room c.1906 shared its premises with a Post Office

8 Millers sandwiches c.1969 10 F. Ward c.1969 12 Shelly's sandwiches and snacks c.1969

13 Donis boutique (Andrew Spyropoulos) 14 Joe Blume's (?) restaurant c.1969

15 I Was Lord Kitchener's Valet boutique (Ian Fisk and John Paul) c.1967. Originally at 293 Portobello Rd
(Robert Orbach / John Paul). Another branch was opened in Piccadilly Circus and John Paul later opened
I Was Lord Kitcheners Thing in the Kings Road.

17 Finlays tobacconists c.1967 19 Shoe shop (shoe repairs) (?) 21 Cafe / restaurant (?)

22 Mr. Carnaby boutique - later Honey... c.1968 Street View

28 Not known The building appears in the Post Office directories 1871-1901 as the Aberdeen Free School

29 Yesterday's Bread boutique

31 Foubert Mansions This site was previously a public House The Nag's Head c.1830-1910 renamed Diamond Reign in 1896, the year of Queen Victoria's Diamond Jubilee. Listed as 30 Marshall Street in 1884

34 City Tote Ltd. betting shop c.1962





1 Foale & Tuffin boutique c.1965 later Button Queen (Toni Frith) c.1967



(previously Cross Street)

Number unknown: Merc boutique (Javid Alavi) c.1966

4 Foale & Tuffin boutique c.1963 - the 1st boutique exclusively for women. The top 2 floors of the
premises were occupied by James Wedge (c.1962) - a design and salon boutique for hats

6 Carnaby Cavern tailors and boutique (Danny Benjamin) c.1964 - See the separate page with reminiscences and stories about the Carnaby Cavern as told by owner Danny Benjamin

10 Cranks No.2 health foods c.1966. 10 and 12 Ganton Street formed a three-storey block with 17 - 17A Newburgh Street

12 Hat Gear hat boutique for men and girls c.1967.

26 Palisades pop art gear (Pauline Fordham / Clive Goodwin / Michael White) c.1965





Newburgh Street view

5 Vince Man's Shop boutique (Bill Green) later Nina Breddal jewellery c.1967

6 Grec no information 8 Unknown boutique 9 .....doir (?)

13 Aristos (Blooshp) later Anella boutique (Aristos and Achilleas Constantinou) c.1966

14 Soho Fare cafe c.1967 15 Vince Man's Shop boutique (Bill Green) c.1954

16 - 17 White Horse public house c.1718 (listed as 16 West Row in 1839 and 16 West Street in 1921).
It was rebuilt 1939. Number 17 is listed as Cranks (wholemeal bakery and juicery) in the 1968 London directory.

45 Blooshp boutique (Constantinou and Achillea Aristos). Renamed Ariella in 1971.





Unknown numbers: Golden Chance turf accountants c.1968 The Beak Club c.1968

A large oblong area surrounded by galleried buildings which appears on a 1792 map as a 'Repository for Carriages', replacing the previous 'Nailer's Yard'. Out of hours drinking club Tatty Bogle opened at
11 Kingly Court in 1917. Rina Rottondo: " 'Round here, when I started work, it was all dress making. It was either catering or the rag trade. I mean, my mum and dad and my brother went into catering, but my sister and I, we went into dress making. Kingly Court, just off Beak Street, they were all little factories, used to be like all little rag trade places".

4 The Pinstripe Club / The Kingly Club





Beak Street first appears by this name in the rate books for 1689. The central part of the street, east of King Street on the north side and Warwick Street on the south, as far as Bridle Lane, formed part of Gelding Close and was called Silver Street (possibly derived from Golden Square which was itself derived from Gelding Close) until 1883 when all three sections became known as Beak Street. The eastern end of the street beyond Bridle Lane was also originally called Silver Street.

15 The Grapes public house c.1830-1851, then Cumberland Stores public house 1851-1989.
Listed as 27 Silver Street prior to 1883

17 Barcelona Spanish restaurant c.1968

19 Toilet Saloon c.1968 also John Stephen Offices (see ad)

21 Lonsdale Sports c.1968 previously the Coach & Horses public house c.1839-1915.
Listed as 24 Silver Street prior to 1883

39 Not Known: The Red Lion public house c.1839-1910. Listed as 17 Silver Street prior to 1883

40 Not Known: The Crown public house c.1809-1921. Listed as 8 Silver Street prior to 1883 and mentioned by Charles Dickens in 'Nicholas Nickleby'.

41 Sphinx restaurant and kebab house c.1962. Formerly listed as 16 Silver Street. The Venetian painter Antonio Canaletto lodged here from c.1749 to 1751

49 Old Coffee House public house, formerly the Silver Street Coffee House c.1772. Rebuilt 1894.
Listed as 13 Silver Street prior to 1883


(previously King Street)

1 The Grapes public house c.1830-1851, then Cumberland Stores public house 1851-1989.
Listed as 27 Silver Street prior to 1883

9 Bag O'Nails night club run by brothers Rik and John Gunnell

10 Kleptomania boutique (Tommy Roberts and Charlie Simpson)

14 Not Known: The Red Lion public house c.1788

18 Blue Posts public house, licensed in 1728 as the Two Blue Posts. Blue Posts and Soho on You Tube. The present pub was built in 1892 at a cost of £4,000. Also formerly known as King Charles II. Listed as 18 King Street in 1905. The 'blue posts' in the name were the boundary-markers of Soho Fields, the sixteenth century royal hunting grounds.

29 Adam W.1. boutique (Stanley Adams) c.1965

30 Not known: Formerly Oriental Stores and Tallow Chandlers Arms public house c.1801-1915.

34 The Clachan public house c.1750 previously The Bricklayers Arms, renamed in 1887. Rebuilt in 1898. Listed as 34 King Street prior to 1906. It was once owned by the family-run Liberty department store and was originally planned to be used as a warehouse before it was sold off.

38 The Green Dragon public house c.1797-1910, demolished for the construction of the Liberty & Co department store





La Carreta A diner's club owned by Paul Inga where three girls in topless Grecian-style toga dresses served drinks in the basement area of the three-floor restaurant.





7 - 8 In the 1968 London directory William Blake House is listed as Cranks offices.
Now a tower block, the board on the building says: 'William Blake was born on 28th November 1767 in a house which stood on this site'.

37 Carnaby House. In the 1968 London directory this is listed as Cranks granary.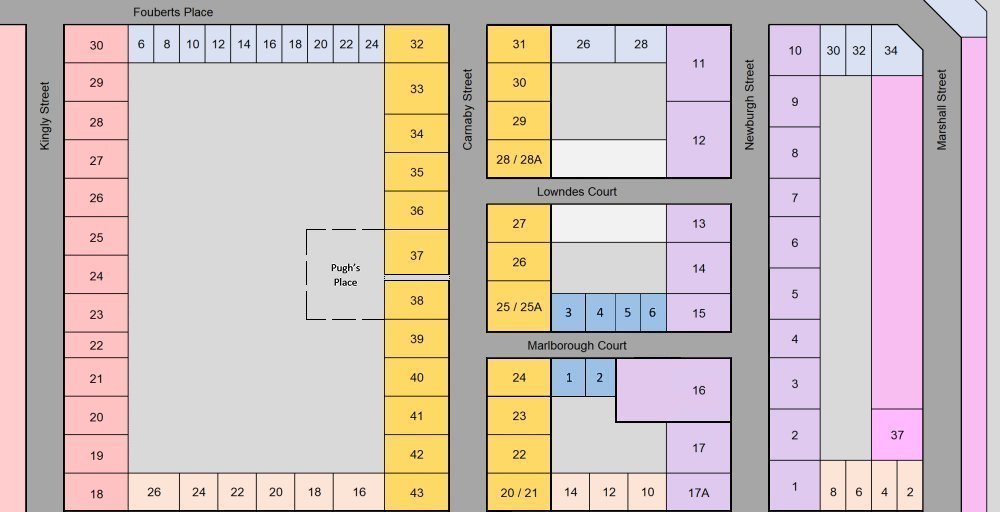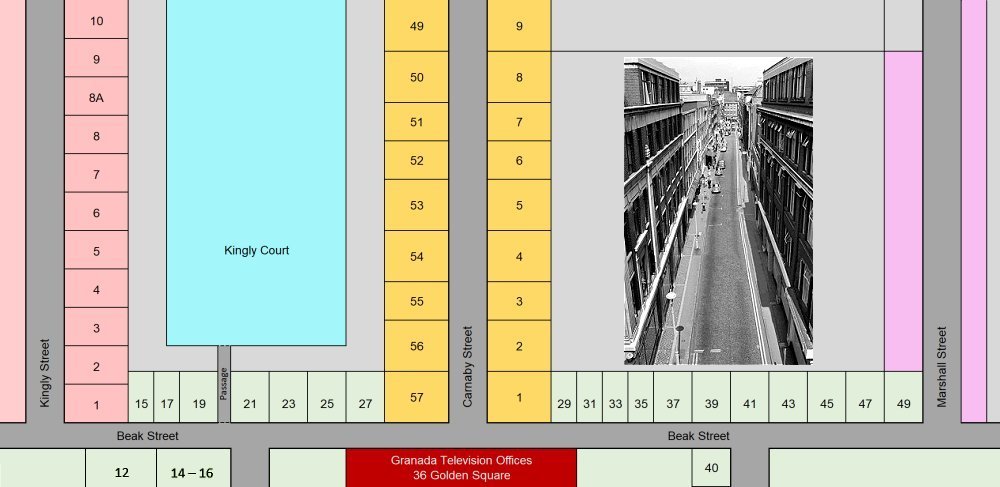 Map Graphic copyright Sixties City

In October 1973 rubberised coloured paving tiles were unveiled on Carnaby Street as part of Westminster City Council's £60,000 face-lift for the
newly-pedestrianised street. Parts, or all of other local streets were also pedestrianised.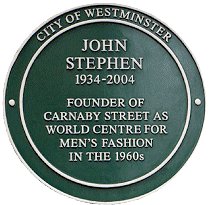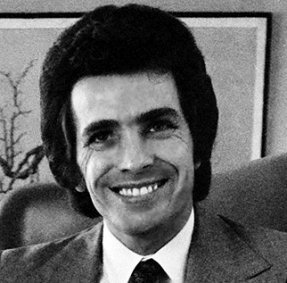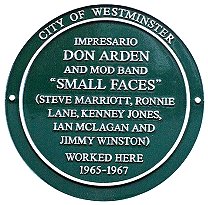 John Stephen - 1934 - 2004 - The King of Carnaby Street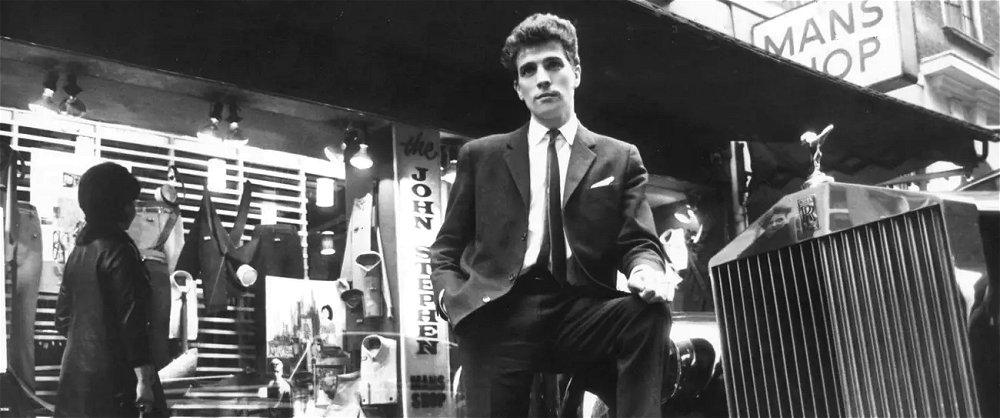 ---
The Carnaby
---