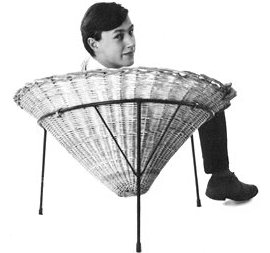 Oscar de la Reuta - Designer for major fashion houses, working for Balenciaga, Lanvin-Castillo, Elizabeth Arden and Jane Derby. Started his own business in 1965 specialising in extravagant,
opulent designs, mainly elaborately-trimmed evening wear, particularly gypsy-style designs.

Alberto Fabiani - Married rival designer Simonetta in 1953 and opened a Paris house together in the 60s. Couturiers and accessory designers, tailored suits and evening dresses, evening culottes.
John Stephen - Suede waistcoats, kaftan jackets, velvet flares, 'groovy' wigs.
Terence Conran - The major force in raising design awareness during the Sixties. He opened his first 'Habitat' store at 77 Fulham Road in May 1964, concentrating on modern furniture and accessories.
Douglas Arnold 'Dougie' Millings - Bespoke men's fashion. Tailored for many top 'pop' stars including The Beatles, Gerry & The Pacemakers, Bill Haley, Cliff Richard, Roy Orbison, Marty Wilde, Billy Fury, Tommy Steele, Adam Faith, Buddy Greco, The Rolling Stones, The Everly Brothers, The Four Tops, The Temptations, The Kinks, The Who and many screen and stage stars. (The round-collared suits for The Beatles cost £31 each!)
Giorgio Armani - Worked as a designer with Nino Cerruti from 1961 to 1974.

Barbara Hulanicki - Started her business by mail-order in 1963 with her husband, Stephen Fitz-Simon. Due to a phenomenal response to their newspaper advertising, they opened their first 'Biba' boutique in 1964, selling mini smock-dresses, mix'n'match fashions, rubberised raincoats, floppy hats and lengthened and dyed rugby shirts which were worn as mini-dresses, many of which were decorated with op-art designs. Their favoured colours were muted purples, dull reds, sepias, blues, greys and pinks. They moved to larger premises in 1965 and again in 1969 when they opened a department store in Kensington High Street, selling men's, women's and children's wear (even purple nappies!). They also sold a variety of foods and household goods but the expansion of the range seemed to be the start of Biba's fall from youth popularity, eventually closing down in 1975. also see Bill Harry's Sixties - 'BIBA'