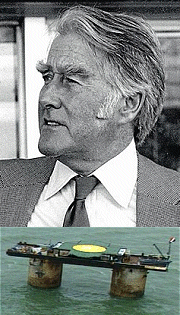 During 1997, a number of forged Sealand passports started turning up across the world, some of which were apparently used to open bank accounts in various countries under false names. Less than 300 official genuine pasports were in existence therefore it was unlikely that the items would be detected as forgeries due to the fact that hardly anyone had ever seen one. The source was eventually traced back to the same the same German who had unsuccessfully attempted to take Sealand by force. He had created an unofficial 'Sealand Business Foundation' that allegedly sold over 150,000 fake passports before being found out, resulting in the curious facty that there are now probably 500 times as many forged Sealand Passports in circulation than official ones. Apparently, a large number of the passports were being sold to people leaving Hong Kong during the Chinese reoccupation for a dollar each. During early 2000 Spanish police brought action against criminals that had set up a website selling fake Sealand 'passports' which are suspected of having been used by illegal arms and drug-dealing rings. One of these fake 'passports' was also encountered by police investigating the murder of fashion mogul Gianni Versace.

The current government of the Principality of Sealand states that "The Principality of Sealand recognises 'jus gentium' and has undertaken to regulate any activity with a view to compliance with 'jus gentium' and international law or to have it regulated." The acceptance and recognition of the Principality as an independent state, or country, has been demonstrated frequently over the last thirty years by both European and other States, but particularly Britain, which has stated unequivocably on a number of occasions that it has no jurisdiction within Principality territorial limits or that it takes no interest in events occuring within the jurisdiction of the Principality. In addition, many legal experts have carefully examined the arguments for and against Sealand sovereignty and have agreed with unanimity that 'jus gentium' applies as the basic principle of law supporting Sealand's independence.

Due to failing health, Prince Roy reviewed the arrangements that had been in place for decades and, looking towards the future of the Principality, appointed his son, Prince Michael, the Prince Regent as 'Sovereign pro tempore' by Royal Decree in 1999. In June of 2000 an Anguillan-based company called HavenCo announced preliminary plans to locate its servers and satellite uplinks on the Sealand platform provided its independent status could be validated. The company planned exclusive leases of offices and operations centres in Sealand to users who wished to take advantage of its Internet colocation services. The purpose was to allow companies to use its servers to avoid the government scrutiny made possible by laws taken up by the U.K. and U.S.A. although HavenCo insisted that it would not allow any form of illegal trading. Sealand, of course, had no laws regarding the control of data traffic.

To the dismay of many investors, the venture failed to become a a success. Ryan Lackey had moved to the fort in 1999, hoping to establish a safe location for privacy services such as anonymous remailers, and experiments such as anonymous digital cash. In a presentation to the 2003 DefCon convention, a former employee explained how internal politics and lack of investment had thwarted the venture. Contracts were broken, the bandwidth never materialised, and the location was vulnerable to DOS attacks. At the time of his presentation, HavenCo had failed to acquire any new customers and had, in fact, seen several of its existing customers leave. "Sovereignty alone has little value without commercial support from banks, etc," concluded Ryan. On Friday 23rd June 2006 the Roughs Towers top platform caught alight due to a fire caused by an electrical generator.