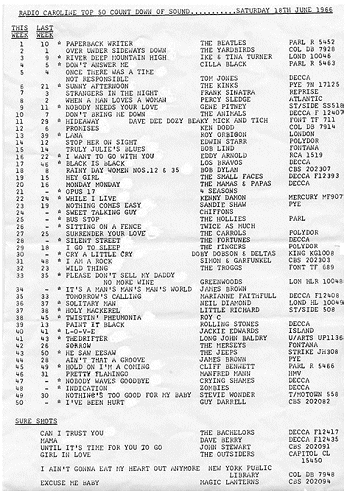 It wasn't until 1969 that a much more reliable 'official' British chart was compiled, emerging from an alliance between the BBC and Record Retailer. A professional polling organisation, the British Market Research Bureau (BMRB), were commissioned to compile a weekly record chart using sales figures taken from a pool of 500 record shops, more than twice as many as for any previous chart. The resulting new 'Official Top 50' was first published in the week ending 15th February 1969. In passing, it is curious to note that, considering the popularity of 'record charts' in weekly publications, there were hardly any other pure 'national pop chart' TV shows produced outside of Britain, making the BBC's 'Top Of The Pops' programme almost unique in that respect. The only other local contenders were the short-lived 'Disc-a-Dawn' televised in Wales, and ITV's 'The Chart Show'. Also, although interest levels in 'record charts' were fairly high in America and the UK, they seemed to be comparatively low in other countries. France relied mainly on a monthly chart in the teen magazine 'Salut les Copains' (which only included French recordings and excluded anything that wasn't French). In fact, most of Europe seemed to embrace the British charts, which probably explains why so many 'foreign' record sleeves of the time proudly advertised the fact that the record was a 'Top British hit'. Both Radio Luxembourg and most of the various 'pirate' radio stations all used one or other of the 'major' chart versions, but a few used compilations of their own to great popular effect, most notably Radio Caroline's 'Countdown of Sound' and Radio London with its 'Fabulous Forty'.

'Big L', as Radio London was known, was financially backed by American Don Pierson and transmitted from the MV Galaxy off the coast of Essex. The 'Fab 40' was calculated from their weekly playlist and was announced each Sunday as a chart based entirely on airplays. This was, to some extent, 'manipulated' by various labels and production companies with a vested interest in getting their own releases played. 'Pirate' radio 'charts' were not, in fact, representative of actual record sales but more of a prediction of what they thought would shortly become popular and were, to some extent, also a 'plug' for certain records on new release and, because of that, were always in advance of actual charts and sometimes wildly inaccurate, containing recordings that never actually featured in the official sales charts. Radio London's 'Fab 40' was, at times, up to six weeks in advance of actual charts and, during their final week in August 1967, contained many records that were not even due for general release until September!
According to Radio Caroline DJ Tom Lodge, "The two (Caroline) ships were always separate. I created the charts on whichever ship I was on, mostly from Melody Maker. We made some subtle changes, but not much, mostly from information we would receive from sales and also feedback from the audience. But that was extremely minimal. Melody Maker was our main source. What was happening, chart-wise, on the ship I was not on, I have no idea".

Interestingly, during the brief life of 'pirate radio' stations, the Record Retailer used to publish a report on the comparative chart positions produced by Radio London, Radio Caroline, Radio City, Radio England, Radio 270 and Radio Scotland. The BBC had little answer to this until the outlawing of 'pirate' radio broadcasting following which, at 7:00 am on Saturday 30th September 1967, it launched Radio 1. Until this time dedicated pop music programmes were very limited although an increasing number of popular records had been played on the Light programme since 1965, presented by disc jockeys such as Pete Murray and the weekly Sunday (BBC) Top Twenty 'Pick of the Pops' programme hosted by Alan 'Fluff' Freeman between 6 and 7pm.

With these new influences on the record-buying public the issue of 'chart rigging' or 'hyping' (the practice of sending out teams of people to buy significant quantities of specific records from sales outlets known to supply chart returns) became the subject of increased concern and, on 15th February 1969, a brand new pop chart appeared which gave very different results from the BBC's previous offerings. The BMRB (British Market Research Bureau) were commissioned, as a result of meetings held between the BBC, the BPI and 'Record Retailer' owners Billboard Publications, to produce a record chart using sales figures from the UK's 6,000+ outlets.

Although NME and Melody Maker were invited to join in the discussions they both declined, apparently being content with the accuracy of their own charts. The only drawback to this new chart was that postal returns were used and the sample size was so big that the figures were effectively out of date by the time they were calculated. This did not significantly change until electronic point-of-sale systems were introduced by Gallup in 1983. The new BMRB chart contained only singles, so EPs immediately disappeared from the listings, including entries listed in the previous week's chart. This led to the introduction of the 'maxi-single' that featured one track on the 'A' side and 2 or more tracks on the flip side. EPs were not to figure in the singles charts again until the mid-1970s.