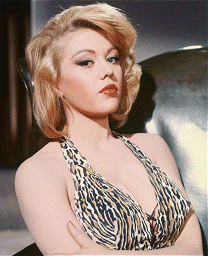 Actress and glamour model Margaret Nolan was born in Hampstead, London on 29th October, 1943 only ten minutes after her twin sister Geraldine. Since their father was in the army, their mother took the sisters and their brother to Waterford in Ireland until the war was over and they eventually returned to Hampstead in 1966. Margaret began her film career as a model appearing in 8mm glamour shorts for George Harrison Marks between 1962 and 1964.

These films included 'One Track Mind', 'Nude in the Sun' and 'The Four Poster'. For photographer Russell Gay, during the same period, she appeared in 'Vertigo', 'Sexational' and 'Tensions'. Under the pseudonym of Victoria Kennedy she appeared in 'Fantastique' and 'Presenting the Fabulous Vicky Kennedy' and, in 1963, she appeared in the film 'It's A Bare, Bare World.'

The producer of 'The Saint' television series, starring Roger Moore, was shown a photograph of her and he gave her the minor role of Daisy in the first series. She subsequently began appearing in numerous BBC TV soaps, plays and comedy shows. Her television appearances in the Sixties included 'The Saint' (1963); 'Crossroads', 'Deep and Crisp and Stolen' (1964); '199 Park Lane', 'After Many a Summer', 'Danger Man' (1965); 'Bedsit Girl', 'The Enchanted Night', 'The World of Wooster', 'Adam Adamant Lives', 'Buddenbrooks' (1966); 'Hugh and I'; 'A Man Like That'; 'The Newcomers', 'Take a Pair of Eyes' in 1966; 'Compensation Alice', 'The Des O'Connor Show', 'Death of a Private', 'The Morecambe and Wise Show' in 1967; 'Nearest and Dearest' in 1968 and 'The World of Beachcomber' in 1969.

In 1964 she appeared in 'Saturday Night Out'. It's interesting to note that The Searchers appeared in 'Saturday Night Out' performing a few numbers in a pub scene. It was said that The Beatles were considered for the appearance but the producers decided they didn't want to pay the fares for them coming down from Liverpool and The Searchers happened to be in London at the time.

Also in 1964 'A Hard Day's Night', 'The Beauty Jungle', 'Goldfinger'; in 1965 in 'Ferry 'Cross the Mersey', 'Three Rooms in Manhatten', 'Promise Her Anything', 'Carry on Cowboy'; in 1965 'The Great St. Trinian's Train Robbery'; in 1968 in 'Witchfinder General', 'Don't Raise the Bridge, Lower the River'; in 1969 in 'Can Heironymous Merkin Ever Forget Mercy Humppe and Find True Happiness?', 'Crooks and Coronets' and in 1969 in 'The Best House in London'.